INTERVIEW WITH SHAHID HASHMI
By Malahat Awan Director Corporate Relations and alumni affairs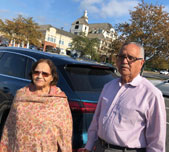 Mr. Shahid Hashmi is a very senior IBA alumnus belonging to the Class of 71. He is based in Washington DC and he is a very successful entrepreneur running a Popeyes Louisiana Kitchen restaurant chain with over 70 stores and other businesses in the northeast United States. He has recently acquired Burger king franchise in Philadelphia. He holds two MBAs, one from the Institute of Business Administration Karachi and another from Western Illinois University. Mr. Hashmi is also supporting our financial assistance program.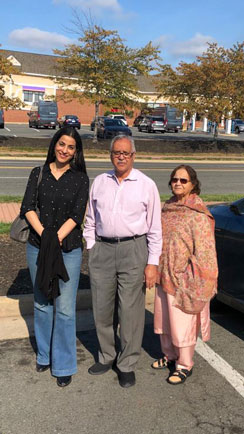 I recently met him in Washington at his beautiful house and we spoke about his journey and interests and passion.
Question: What do you attribute your success to?
S.H.: Hard work and focusing only on the tasks which I am comfortable with. The second attribute that I learnt at IBA, was to not get involved in too many things at one time.
I have also inherited good habits from my parents as well as my very supportive life partner who has supported me unconditionally on all my ventures.
Question: Any value that you picked up when you were at IBA?
S.H.: Discipline and no compromise on honesty and integrity.
Question: Anyone from faculty who impacted your personality?
S.H.: It is very difficult to say one name as we had some very good faculty members during my time at IBA.
If I had to take one name then Dr. Hashmi, my namesake, was the most instrumental in motivating me not to give up under any adversity.
Question: How were you as a student?
S.H.: I was an average student who had to work harder than most students in my class as everything was new to me because I had not had any business courses prior to joining IBA.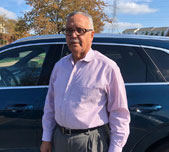 Question: Any memory from your time at IBA you'd like to share.
S.H.: In our orientation session we were addressed by Dr. Hashmi, and I can never forget the first sentence of his talk to the class: "Look to your right and look to your left and one of you will not be here next semester".
That one sentence made me determined that no matter what, I will not be the person who will not be here in the next semester. Being a science student subjects at IBA were very alien to me but I was determined to work hard and not fall into the trap that I cannot learn the new subjects.
Question: Do you find any difference between the recent graduates and the graduates of your time?
S.H.: I do not have much exposure to the recent graduates, so it is difficult to compare. The only comparison I can do is that during our time most of the students were from English medium schools from middle to upper middle-class families. Now I understand brilliant students come from all classes of families and even from Government run schools.
Question: In future, which of the skills do you think will be needed the most for the workforce and how can IBA prepare the workforce?
S.H.: Today's world is much different from the one we grew up in. The nations can only advance if they have skilled workforce fully trained in science and technology, especially artificial intelligence. IBA should put special emphasis in teaching computer science related courses across the board. There should also be special programs teaching courses in artificial intelligence leading to an advance degree in this discipline.
Question: How would you describe your leadership style?
S.H.: I am a consensus builder who listens to everybody in my team. Then I individually analyze all the input and finally decide the course of action with a detailed set of action plans.
Question: If you were stranded in an island and you only had one book to carry, which one would it be?
S.H.: Being born in a Muslim family I didn't learn much about other major religions. If I am stranded on an island alone, I would like to study about all the major religions of the world to better understand different religions, such as their beliefs and practices as compared to ours.
In such a scenario I would love to have "God and Mankind: Comparative Religions by Robert Olden".
Question: You are involved in a lot of volunteer work, and you give a lot back to Pakistani universities, any particular reason why this is your calling?
S.H.: I spent my formative years in Pakistan before I came to the US for my graduate degree. During my study here I found that the schooling I got from IBA is equal, if not better, than the schooling in US. What I am today is the direct result of my basic training in Pakistan. I feel that I have a moral obligation to provide assistance/help to improve the education system in Pakistan.
Whatever help I provide to universities in Pakistan is only a small contribution towards education in Pakistan. I strongly believe that I need to contribute as much as I can to the country which provided the basic training and early development towards my career in the US.
Question: When you had a hard day at work, how do you unwind?
S.H.: After a hard day at work when I come back home, I like to forget all that happened that day for a few hours, and I don't think about issues of the preceding day. I take a short break, rest, and then catch up with the world news, especially the latest development in our part of the world, on tv or internet.
Question: One value that you think the people in US have that we should adopt?
S.H.: In general, most people in the US are honest and value human lives. We need to incorporate these values as we have very little of these traits in Pakistan.
Question: Any regrets in life?
S.H.: I don't have any regrets in life. If I had to do it all over again, I would like to get into business a little earlier.
Question: What is your normal day like?
S.H.: I generally get up very early in the morning. After breakfast I go to my office and have brief meetings with my assistants for major issues for the day. During the meetings I ask a lot of questions to plan my day. After the meeting I take steps to ensure I have taken care of all issues that need my assistance. I generally get back home by 6 pm and after having an early dinner I check my computer for emails and answers all that require my inputs. Then after watching TV for an hour or so I retire to bed by 10 pm.
Question: How do you manage a huge team?
S.H.: We have over two thousand employees, both here and in Pakistan. I am fortunate to have such talented and dedicated team leaders who manage their departments very effectively. I only directly work with my immediate subordinates and let them freely manage their own teams within the guidelines developed by the entire group.
Question: How do you motivate them?
S.H.: As I said before, I am lucky to have a team of dedicated and very knowledgeable members. I treat all of them fairly and have one-on-one personal relationships with each member of my team. They all have targets or goals for their group and are handsomely rewarded for achieving their targets on regular basis.
Question: Any advice for future graduates?
S.H.: All students in IBA are very fortunate to be studying in one of the premier educational institutes of Pakistan. My advice to them is to work hard and have goals in life along with a plan to achieve the said goals.
It was indeed a pleasure to meet Shahid Hashmi, who despite his phenomenal success, is very down to earth, grounded, full of love for Pakistan and IBA.