Featured Interviews - Miles to go before I Sleep
Mr. Irfan Mustafa reveals his secret ingredient to success
Interviewed by Sibtain Naqvi, Alumnus 2005 & Transcribed by S. Komal Jafri, Alumna 2013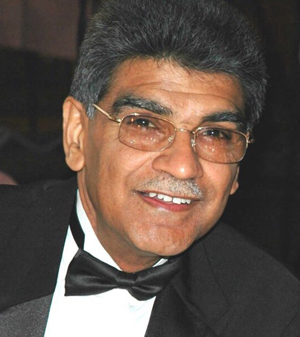 Irfan Mustafa, IBA Alumnus 1973, is currently Chairman, Delicious Holdings, & Managing Partner, KFC Pakistan. Previously, he was the Managing Director for the Middle East, North Africa, Pakistan and Turkey region for Yum Restaurants International (parent company of KFC, Pizza Hut, Taco Bell, A&W and Long John Silvers). He is also Chief Leadership Development officer (CLDO), and his primary role is developing global systems and personally facilitating high powered sessions in developing next generation leaders. He holds two post graduate degrees in Business Administration - one from IMD (Lausanne, Switzerland) and second from IBA Karachi, Pakistan.

Among many notable achievements, Mustafa's charitable and philanthropic efforts were particularly heralded. For several years he has been actively involved in social and community-based projects that focus on the development of youth, education and poverty alleviation. Mustafa is especially passionate about reaching the Muslim youth in Pakistan, the Middle East and the United States to steer them away from violence and to "use their minds" to compete in the world, to co-exist with those who have opposing values and views, and to elevate their stature as global citizens.

Here's how he shares his journey of brilliance spanning almost 4 decades:

Q: What led you to seek admission in IBA? A: I wanted to go to United States for my higher education but my parents had other plans. My mother wanted me to stay back so she could spend time with me. She convinced my father who incidentally was a pioneer of management education in Pakistan and on the board of IBA. He asked me to meet the then heavyweights of IBA, Dr. I. A. Mukhtar Dr. Abdul Wahab and Dr. Matin A. Khan. Well as they say, the rest is history and I ended up spending some memorable years in IBA.

Q: How was the IBA experience for you as a student? A: In short, before coming to IBA, I was a brute young man with not much goals in mind. But all that changed during my stay at IBA. Bludgeoned with constant quizzes and assignments coupled with competitive atmosphere and strict timelines put me on a track to success. I can never forget IBA. It has to go with me in my grave.

Q: Tell us a memorable anecdote from your days at IBA. A: I can never forget the classroom sessions by Mr. Danishmand. Unlike other faculty members, he used to engage students in and beyond classroom. No faith in lectures or books. We used to sit in groups and have open discussion on topic. Now this was a hardcore experiential learning in very informal setup where you were forced to contribute and engage and learn communication. Even beyond classrooms we had a healthy relationship with Mr. Danishmand.

Q: What in your opinion makes an IBA student stand out from the rest? A: I was on board of LUMS for few years and whenever I lectured there, students would ask me to draw comparison between the two institutions. So I used to tell them that if IBA were a brand and a human being; he would be Charles Bronson (tactical, street smart, decisive, roll-up-the-sleeps, doers) and LUMS would Robert Redford (broad, hero, aura, drama, charisma, slightly hollow). Probably, this differentiation could be attributed to the impact of Karachi. Karachi's ethos or culture is also the same (street smart, down-to-earth) playing out there. You could rely on IBA's students. This is IBA's strength.

Q: Do you think that IBA degree is marketable globally? A: My point of view is that why do IBA graduates want to move out of country. Pakistan needs talent and leadership so IBA should focus on marketing their students in Pakistan. IBA should be developed into a brand serving to the local market.

Q: How did you start your career? Was it an eventful journey to where you are now? A: After my MBA from IBA, I went to IMD University, Switzerland for my second MBA in 1975. Upon returning, I joined Unilever as Management Trainee. During training, I was asked to spend around 3 months with Sales Department. The company sent me to Hyderabad for a month to spend time with sales team/sales rep. In scorching heat, we would walk on foot through the cities selling soaps and stuff. I ended up getting a heat stroke. I was admitted into hospital where I was made to lie on an ice slab. My father came to fetch me and took me back to head office in Karachi only to see me land in Hyderabad after sometime. In retrospect, this exhaustive training taught me the worth of hard work and the art of bread winning.

Q: If you had the chance to start your career over again, what would you do differently? A: In my 14 year career with Unilever I never did field assignments. Had I acquired on-the-field sales experience I would have been in completely different league. I'm not complaining as I have done quite well but sales experience would have helped me. Moreover, if given a chance I would work on the social aspect of my professional career. At the end, it is all about relationships. Understanding informal dynamics is absolutely critical. Getting along with people and keep your eyes and ears open.

Q: What do you think is the most important factor for being a success in today's world? What do you attribute your success to? A: What matters most is EQ and not IQ. Soft skills are most important. There is a huge gap in this area because no institution is working on it. You must be able to embrace diversity and multicultural environment and coexist; from native citizen to a global citizen. This transaction is most important and nobody is teaching us that. Intelligent graduates from great universities lag behind in lives because of lower EQ. Your level of confidence, self-esteem, belief in yourself, and your inside-out approach helps you race ahead. In my case, I will attribute my success to God. There had been too many invisible hands I owe my success to; mother's prayers and my partner has helped me through so many problems. Hard work, focus, clarity, ambition, passion is a must but without God's help you can achieve nothing.

Q: Define happiness as you understand it in today's fast paced world? A: Grass is always greener on the other side. There is no one in the world who isn't troubled. It is important to understand and accept. Happiness is not linked with material. I have learnt this with bitter experiences. How you positively impacted and changed other people's lives; now that's your legacy. Nobody will remember your bank balance, your cars, or any material possessions. If you keep this in mind there will not be greed or envy. Instead of looking at others, go for your personal best and this will give you happiness.

Q: Tell us something about your family and your interests other than work. How do maintain your work-life balance? A: Generally speaking, I am a serious art/antique collector, mostly, Middle East and the Indian sub-continent. This includes paintings, furniture, carpets and pieces of decoration. I am also actively involved with the youth on leadership development in the capacity of a teacher, mentor and coach. I also actively and unashamedly promote Pakistan and showcase its positive side. On the family front I have a partner/spouse (Yasmin) whom I met at IBA in 1972 and fell in love with. She is my backbone and my right hand. I am also blessed with 3 great kids (Ayesha, Harris and Gibran) each one of whom are making a mark in their own right, especially Ayesha who is highly celebrated and accomplished entrepreneur in the field of Ethical Fashion based out of London. She runs her own online boutique under the brand name Fashion Compassion. Both Harris and Gibran are involved in the food business and developing into success entrepreneurs.

Q: Over the years, what noticeable changes have you observed in IBA Graduates? A: I have observed positive changes in IBA graduates. From tactical, they are becoming more strategic. Their view is getting broader. IBA was seen as a solid product but not brand. Now they are beginning to become brands. They are much more confident now.

Q: What role can alumni play in the success and development of IBA? A: We owe it to IBA. I especially owe it all to IBA. Alumni must recognize the institutions. Look at what others have done for their alma maters. The will to do comes from inside. Everybody is self-centered. It's the problem with country, and institution is suffering from the same. Only with individual effort, people are doing a lot!

Q: What message would you like to give to the present IBA students as well as the alumni? A: First of all, current students, as soon as you get opportunity choose your life partner at IBA. I have had an extra ordinary journey. Secondly, you need to self-reflect and listen to your inner voice. Your inner self never lies. You have to make your own narrative and your country's narrative. Seek help and take mentorships that will help you change your narrative.

Q: What would you consider to have been your greatest achievement? A: My greatest achievement has been as a pioneer of so many initiatives and as a change agent. I hate status quo. 'Don't fix it if it isn't broken' is most ridiculous statement. Because if you fix it you get performance. I have taught at some of the prestigious universities on the globe including Stanford, Berkeley, and Columbia. During these almost 40 years of my career, I have unashamedly been optimistic about Pakistan and promoted it at every forum I could lay my hands on.