Striving for a Cleaner Pakistan
Sarim Sheikh, MBA '95, President & CEO GE Pakistan, talks of cleaner technology and business innovation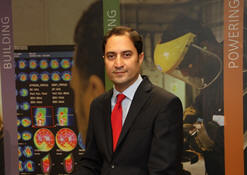 1. What was life like at IBA back in your day?
It was one of the most fascinating, enjoyable and great learning experiences of my life. IBA of today is very different from yesteryears. The facilities we had were very basic and teaching while establishing strong foundations was still based on an old-fashioned model. Nevertheless, it was a great learning experience not only because of strong real-world learning from industry experts but also a rapidly changing economy in Pakistan.

I also stayed in the AS Nagi hostel for the duration of my MBA. It would be mild to say that life was tough there but the camaraderie and tenacity that we developed has lasted a lifetime.

Above all, the friendships I have built in IBA have been a cornerstone of my experience.

2. What lessons did you learn on your way to becoming a CEO?
One of the most important lessons you learn is that your rise in leadership roles has an inverse relationship to your ability to get things done on your own. I know it may sound cliche, but at senior levels of the organization it is all about team performance.

Team performance however, is dependent on the quality of people you hire, the culture of collaboration you create and how well you are able to motivate people around you. In leadership roles over the last 10 years, I have always had the goal to create empowered teams and eventually make myself unneeded. You can only make yourself unneeded, if you have high performance teams with the role of a leader being only to coach rather than manage the business. Fortunately, I have been successful in most part in achieving this.

3. How would you describe your leadership style?
I spend a lot of time on recruiting people who have the right attitude, intellect, capacity, relationships and drive to make the most out of the opportunities presented to them. My style is to let them run with their ambition with me acting as a coach to help them and the organization get to their goals.

4. What role did your better half play during your career? If you had to give us some advice on work-life balance, what would that be?
My spouse has had a very successful career in banking and she has been a great support to me throughout my career. I take her counsel in many areas and she helps me stay grounded. Every person is different but for me, having a life partner who is a professional herself has been a great boon to my career.

Work-life balance varies from person to person and your own perspective on how you see work as being separate from life or an integral part of it. The more important thing is how you keep your closed ones engaged in the process so that they are onboard and any disruptions that are caused are adequately balanced.

5. What made you bid farewell to your organization of 17 years? When do you know it's time to move forward?
As an individual, I have been fortunate to have many varied and interesting roles throughout my career with Shell. My main driver in making career choice has always been predicated on two things: The learning I would get and the challenge it would present me.

What pulled me to GE is the fact that GE brings solutions to some of the world's toughest problems across a variety of industries. When I joined GE three years ago, it was an operation which was, in my view, ready to take off, because GE addresses key infrastructure sectors e.g. energy, transmission and distribution, oil and gas, healthcare, aviation, transportation, lighting. Now, if there is any region that needs it, it is the one I look after i.e. Pakistan, Iran & Afghanistan. So that has been my passion, to see if I can help Pakistan get the benefit of what GE brings and GE to also benefit in return.

6. Do you feel Pakistan can be energy efficient in future? What innovative ways would you suggest to solve some of Pakistan's most pressing challenges in energy sector?
Pakistan's has one of the lowest power consumption rates per capita in the region. While a large part of this due to level of industrialization and consumption in the country, but severe shortages also play a key role. We face a vicious cycle of lower availability driving lower growth.

As an energy deficit country, conservation requires us to work not only at the consumption side by leveraging more efficient technologies i.e. LED lamps, inverter air conditioners, more efficient vehicles to using what resources we have more efficiently. Indigenous natural gas meets almost 50% of our energy demand and ensuring that we maximize the use of each molecule is critical to our energy security. Too often in my industry I see the same molecule being used to generate 3 times the economic benefit vs. average use in Pakistan. To manage this pricing of gas has to be addressed to ensure the most economic use.

Government has adopted a welcome strategy to diversify its resources relying on Hydel, Thermal (LNG), Coal and Wind/ Solar. While I may not be in agreement with the relative weighting of each, I think it is great for us as a country to diversify our energy resources and encourage both public and private sector participation in addressing the energy crisis.

7. Environmentalists put a major onus on energy and fuel companies for environmental degradation. Having spent most of your career first in Shell, and then in GE, what do you think are the responsibilities of energy companies towards environmental conservation?
Energy companies need to push into clean technology, alternative energy and eco-friendly infrastructure. They need to do more than mere PR posturing. Words need to be backed up with visible actions and long-term strategy.

General Electric is fast-becoming America's largest non-conventional energy company by embracing the environmental friendly technology. The strategy is to enhance resource productivity and reduce environmental impact at a global scale through commercial solutions for our customers and through our own operations. As a part of this strategy, we are investing in cleaner technology and business innovation, developing solutions to enable economic growth while avoiding emissions and reducing water consumption, committing to reduce the environmental impact in our own operations, and developing strategic partnerships to solve some of the toughest environmental challenges at scale to create a cleaner, faster, smarter tomorrow.

8. Do you have any regrets from life?
I spent over 10 years of my career abroad and returned in 2011 to Pakistan. Both my parents unfortunately passed away within 15 months of my returning to Pakistan. My biggest remorse is that I was unable to spend more time with them.

9. What message would you give to students and graduates while charting out their careers?
Your whole life is ahead of you; you can make mistakes and still come out ahead. However, the biggest mistake one can make is to take no risks. Taking risks and accepting challenges where you have a likelihood of failure is the only way for you to grow and learn; and to become better leaders.

PS: I do not know any of my contemporaries who graduated from IBA and are not doing well. So don't be afraid to take risks and make mistakes.
Related Links
Take a sneak peek into the new IBA. View how your beloved institution has transformed leaps and bounds in recent years.
Send us your request and we'll deliver your card.
A hassle-free entry to campuses, access to on-campus facilities and offers from renowned companies.
Featured Interviews