"Developing People & Businesses - Sportsman Style"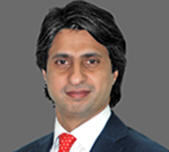 In a candid talk, M.A. Mannan, alumnus 1991, shares his passion for people, ideas and positively impacting lives.
M.A. Mannan graduated from IBA with an MBA in 1991 and is currently the President & CEO of TCS Holdings Limited. He has over 22 years of business experience both locally and internationally during which he has led, structured and turned around banks in the Conventional and Islamic banking spheres. Prior to joining TCS, Mannan has served as the Executive Director at Silkbank, CEO of Dubai Islamic Bank (2005-2010) and Deputy CEO of UBL (2003-2005), and devotedly worked with Citibank right after his graduation from 1991 to 2003.

We see a clear shift in your career, from an extensive tenure in the banking industry to logistics. Why has that been?
M. "Nothing is more powerful than an idea whose time has come". This quote encapsulates my career as well as my future aspirations. My preference to be a part of Consumer Banking; switching to Islamic Banking; and now my move to this industry; all these decisions have been for the same reason. I feel, logistics will play a key role in the overall growth of Pakistan in the coming years; add to this the E- Commerce revolution, and the opportunity becomes irresistible for someone like me.

How would you describe your experience at TCS? What is your personal motto as the President and CEO of TCS and how does that align with your vision for the organization?
M. The TCS team's shared vision is "Delivering beyond customer expectations". We might not be there yet, but we are working very hard, as a team, to get there. I strongly believe that the CEO's vision has no meaning unless the entire team owns that vision. I am just an individual who, like my team members, participated in the process of formulating and charting out the vision, and now we all own it.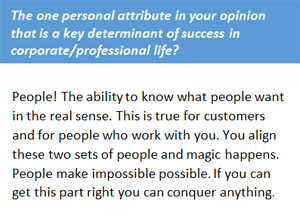 Having spent almost 20 years of your career in the banking industry, how have you seen it evolve? Would you say that the Pakistan banking industry has good future prospects as compared to the global standard?
M. I would like to break the last 20 years into two parts; the first 10 years saw the banking industry grow and change at a rapidly accelerating rate, especially, the Consumer Banking sector. The other significant event was the launch of Islamic Banking in Pakistan, which has tremendous growth potential. I am confident that the Pakistan Banking industry will continue to grow.

Among the various positions that you have held at different organizations, which role did you find the most challenging and why?
M. I find my current role most challenging; the reason being, that the opportunity is ripe and right here for us to grasp. One of our Corporate Values is "To make life simple, convenient and easy for our people and customers". TCS has the platform to make this happen; we have set the bar high for ourselves and this poses new challenges for us as team, but the upside is huge.

How was your time at IBA back in 1991? Please share a memorable anecdote or two.
M. IBA was a life changing experience for someone like me as I had been a professional sportsman before that. To learn and compete with accomplished students on the academic side was a big challenge. All I can say about memorable anecdotes is that I came near expulsion a couple of times, (not because of grades I assure you), survived that somehow and graduated. I leave the rest to your imagination!

Define success and happiness as you see it in today's fast-paced world.
M. These two words are very personal. What they mean to you might be very different from what they mean to the another person. For me this translates in doing something big for Pakistan and for the people around me. You don't have to be driven by the world. YOU are the only one who drives your own World.

You have held quite a few C-level positions at various organizations. How does one stay grounded when professional success comes at lightning speed?
M. First of all I don't think I have achieved much yet, hence being grounded is not an issue. What excites me is that I definitely am part of the right team, and working towards a shared vision that can produce significant success in the near future.

We all have an innate desire to contribute to the greater good in the world. Do you believe you have been able to do that in the various roles you have held? Which has been the most fulfilling role in this regard?
M. I have been very lucky to have worked on products and services which make life better for people. When you have these kind of opportunities you are making a difference to customers, people who work with you and to your own self. Launching Credit cards, Car Financing, Home Loans, Islamic Banking and now the TCS platform - where we are helping others succeed, are all very gratifying experiences.

What is the one personal attribute in your opinion that is a key determinant of success in corporate/professional life and why?
M. People! The ability to know what people want in the real sense. This is true for customers and for people who work with you. You align these two sets of people and magic happens. People make impossible possible. If you can get this part right you can conquer anything.

What is the one decision/individual/attribute you feel has played a major role in your success as a professional? How much of your success do you attribute to IBA?
M. As I said before that I haven't achieved much and the best is yet to come Insha'Allah. Wherever I am today, has been a result of the wonderful people I have worked with. I attribute a lot to IBA as it transformed me as a person and prepared me for the challenges ahead.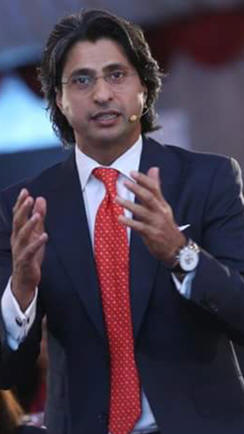 In your experience, is the perfect work-life balance as evasive as it is renowned to be? Do you have any tips in that regard for aspiring business professionals?
M. This topic is overrated! This is very possible and very doable. All it takes is time management skills and prioritizing what you want from your life. My tip is to wake up at Fajr (5 am), and not sleep after that. Utilize this time to focus on doing something that you are passionate about.

TCS has been recruiting many IBA graduates recently. How does the IBA graduate of today compare to the graduate of 1991?
M. Yes we have recruited from IBA, as well as other reputed institutions, and we will continue to do the same. The graduate of today is far better equipped compared to a graduate from my time. They know a lot more and have better tools to make a positive impact in this world. Consequently, they have a lot more responsibility to ensure that they work hard and rise to their potential.

IBA has recently undergone a complete metamorphosis and is now entering another era, hopefully an even more productive one. How do you expect IBA to shape up five years from now? Do you have any message for Dr. Farrukh Iqbal (Dean & Director, IBA) and/or the Alumni community at this stage of transition?
M. I feel extremely happy and proud when I see the IBA of today. Hats off to Dr. Ishrat Hussain and his team. Dr. Farrukh Iqbal will Insha'Allah continue down this path and take it to greater heights. As we work to realize Pakistan's true potential - IBA will remain at the forefront of providing the leadership that will make it happen.
Related Links
Take a sneak peek into the new IBA. View how your beloved institution has transformed leaps and bounds in recent years.
Send us your request and we'll deliver your card.
A hassle-free entry to campuses, access to on-campus facilities and offers from renowned companies.
Featured Interviews