Featured Interview - Mr. Juned Ahmed Choudhury
FROM DHAKA WITH LOVE: Reminiscences from the Days of IPBA
Juned A. Choudhury from the MPA Class of 1959 had a stint of training in France and joined Pakistan Shell Oil Co. in Chittagong rising to be a Director, having worked with Shell in Brunei and Malaysia. He now lives in Dhaka, "retired but not tired". His passion is to promote French language and culture; and as President of Alliance Francaise of Chittagong was decorated Knight of the Order of Arts and Letters by the Govt. of France. He is now actively engaged with an international recreational jogging club, Hash House Harriers, trekking, travelling, writing travel stories, with the mission of "bringing people together", humbly, the people of the sub-continent.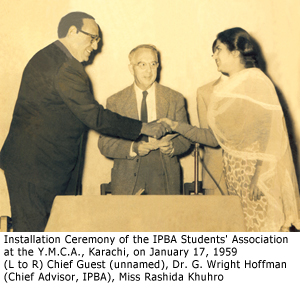 I was in the Master of Public Administration (MPA) program at the Institute of Public & Business Administration (IPBA), the predecessor of IBA, in the 3rd Batch of 1957-59. As I could not submit my dissertation in due time (due to circumstances beyond my control!) I am considered as an alumnus of 1960. The Institute was then located at the corner of Havelock Road, roughly equidistant from the then President's House, the YMCA and the Rex cinema.

It was some time in 1957 while I was in the 3rd and final year of B.A. (Hons) in Economics at Dhaka University that I appeared at a 16-minute, 50-question test and an interview with Dr. Virgil H. Stevens, and was selected. Such true-false, multiple-choice tests were unknown in Pakistan, nay, in the sub-continent, as was the subject of Administration - Business or Public. In Dhaka I was not a front-bencher in class and it was a bit of an embarrassment both for him and me when our 'first-boy' was not selected. I suppose the test was for aptitude for administration rather than academic brilliance. "Selection" meant not only admission but a full scholarship from Asia Foundation for two years. Under this scheme, five students each from East and West Pakistan were selected for MPA. The MBA program was open to all, along with the remaining places in MPA.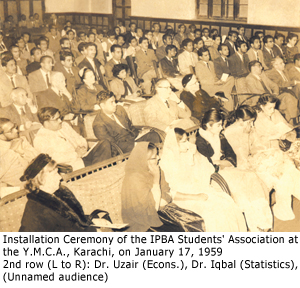 The twenty of us of 1st and 2nd year were put up in a rented two-storied Hostel on Tariq Road in PECHS. It was luxurious living, with furniture, heavy mattresses, linen, crockery and cutlery from the US AID warehouse. Food was quite good. There was a Resident Hostel Director, Dr. Anwar H. Syed, just back from the US - crew-cut, jeans and all. There was a student-manager for each month that got hands-on training in management under the supervision of the Director. There would be a monthly dinner presided over by the Director, and a monthly inspection by Dr. Stevens. This was the time the expensive chests of drawers would be hurriedly stuffed with the dirty clothing and other odds and ends to give a spick and span appearance to the rooms. I do not think there were marks given, but somehow we always got the impression that we were being assessed at every step.

This, I suppose, was in the US AID scheme of things. The idea of giving scholarships only for MPA was to strengthen the Government administration by educating us as potential senior bureaucrats. We were not only to be qualified academically but also to be groomed in conduct becoming a public servant. Once while driving past the Beach Luxury Hotel, Dr. Stevens told me, "Last night my wife and I attended a ball in this hotel. We had a good time. When you will be in service you will also attend such functions. That's all right, you also need recreation, but you cannot afford to have scandals."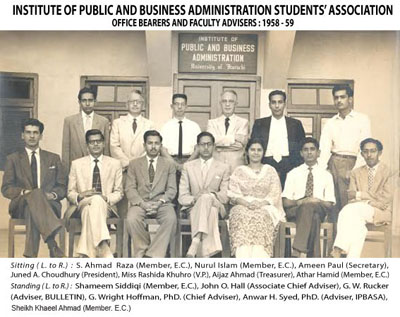 Our American Faculty members resided in PECHS. In Sector 6, which was the frontier, one of their neighbours was Mr. Zakir Husain of Chittagong, Chairman of Public Service Commission. He had a large house on top of a hill and a tennis court at the bottom. The Faculty used to play with him. Then they decided to take us students one by one to play tennis and socialize and in the process familiarize ourselves with the Chairman. This did not please him. After a couple of visits, Mr. Husain told them that since these young men were likely to appear before him for interview, therefore, it would not be proper on his part to mix informally with them. Such integrity, impartiality and professionalism of a public servant! However, tea at the residences of the Faculty was welcome, particularly when their girls would be visiting during holidays. Then there were picnics at Hawke's Bay with foodstuff from the US Commissariat - first time I saw what a pretzel looked like.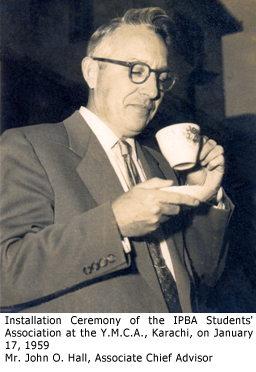 The scholarship was meager in today's terms - Rs195 per month. Rs175 was deducted for board and lodge, including an Rs1.25 set lunch at Cafe Firdaus on Victoria Street, leaving Rs20 to pay for the No.36 bus, tea at the Iranian Cafe Liberty on Tariq Road, and other expenses. My widowed mother would send me Rs20 a month. Besides, if one was willing and in the good books of the professor, which I was of Dr. Stevens, one could be appointed as Research Assistant, which would bring in another Rs20. I was also Editor of the IPBA Bulletin, which was voluntary. In the second year I was elected President of the IPBA Students' Association. Rashida Khuhro was my Vice-President. It is a shame that I could never meet her or any of the other office-bearers again.

With all these activities and the pressure of surprise quizzes, monthly tests, etc., there was not much time left for any other extra-curricular activities. However, at the winter break some of us from East Pakistan visited Mohenjo-Daro and were hosted and entertained by our classmate Dost Mohammad Unar at his village home in Nawabshah.

During the October holidays, my late lamented friend Kishin Bherwani from Hyderabad and I took a train journey up to Khyber Pass, travelling 3rd class, living on chapli kebab and nan, staying at a friend's house at Model Town in Lahore, railway retiring rooms, Mingora College hostel (near Malala's home) and Peshawar University hostel (breakfast with plain nan and tea). In Swat we sought an interview with the Wali of Swat, Aurangzeb Khan (his son Jahanzeb became ADC and son-in-law of Ayub Khan) to "study the system of administration in the State". He told us that his administration was simple - his subjects having any grievance would assemble before him; he would listen to their problems and give his decision then and there. In beautiful, wooded and tranquil Kalam, with a murmuring brook beside, the only food that we could find was walnuts, and tea sold by an old woman. When I went back in 1992, it was as busy as Jodia Bazar.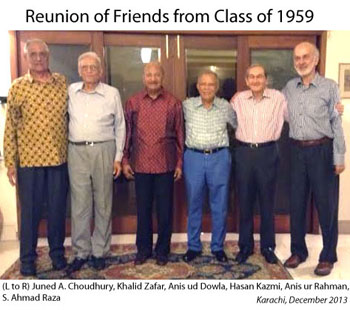 Going back to what I said at the start, the reason for my not submitting the dissertation on time was that immediately on completion of the MPA course I received an one-year scholarship from the Govt. of France for training in Personnel Management under the prestigious Ecole Nationale d'Administration (ENA), the National School of Administration for post-entry training of French bureaucrats and diplomats. Dr. Stevens taught us Personnel Management; and at an early stage he and I discovered that I had a natural aptitude for this subject, rather than Accounting or Statistics. Before I left he advised me to the effect, "Juned, you are going to Paris as a young man. There are many distractions. You have to be careful and take care of your health." Well, student life in Paris turned out to be so enjoyable that I and my overseas friends became Parisians and left the 'distractions' to the tourists.

My interest in France was so abiding that I spent about thirty years voluntarily running and developing the Alliance Francaise of Chittagong as a Committee Member, Honorary Secretary and President. As recognition, I was decorated Knight of the Order of Arts and Letters by the French government.

The IPBA scheme of turning us into bureaucrats did not quite succeed. Most of us preferred to take up careers in the private sector or in teaching, with many reaching enviable heights at home and abroad. This was not only because of higher remuneration in the private sector, but because, as the spirit of enterprise had been instilled in us, we were loath to accept seniority and not merit as the main criterion for advancement. We have no complaints; we were educated and treated very well, contributing immensely to whatever we achieved in life. And, above all, the love for the Institute and the bonding and friendship that was created amongst us has been ever-lasting. It is because of this that after fifty-four years I went to Karachi to attend an IBA Alumni dinner to felicitate alumnus President Mamnoon Hussain, meet old friends and mourn with the families of those who have, sadly, passed away. This is in addition to the annual re-union, now running for a decade, of the septuagenarian classmates who over-fly the sub-continent and spend a week in retreat along with wives, away from work and home.

Juned A. Choudhury
Dhaka
Dec' 13
E-mail: railjerker@gmail.com
Recently, Juned visited Karachi with his wife to attend the Alumni dinner in honour of the President (Dec'13) and a re-union party with his classmates. Visiting the IBA Main Campus after nearly twenty years his reaction was expressed in one word - Wow!
Related Links
Take a sneak peek into the new IBA. View how your beloved institution has transformed leaps and bounds in recent years.
Send us your request and we'll deliver your card.
A hassle-free entry to campuses, access to on-campus facilities and offers from renowned companies.
Featured Interviews