"A Good Head and A Good Heart"
Mr. Muhammad Ali Ghulam Muhammad talks about how his gut feeling helped him shape a successful career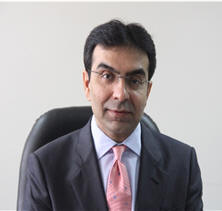 Mr. Muhammad Ali graduated from IBA in 1990 with a gold medal in finance. Over the next 25 years, he gained wide-ranging domestic and international work experience in the public and private financial sector, including appointment as the Chairman of the Securities and Exchange Commission of Pakistan, the apex regulator for the corporate, insurance and financial sector of the country. He is credited with the establishment of a number of successful business ventures in the securities market, IT, digital media and food sectors, having a combined workforce of more than 2000 employees. He has also served on the boards of leading Pakistani corporates, stock exchange, credit rating agency, Federal Board of Revenues' Tax Advisory Group and Government of Pakistan's Economic Coordination Committee of the Cabinet, and advised the Government on IPOs of the largest Commercial bank and one of the largest E&P companies in the country. He also initiated and steered major corporate governance reforms for public and private sector companies in Pakistan and led Pakistan's successful election on the Board of International Organization of Securities Commissions (IOSCO), the first time that a developing

Your career has charted many organizations, big and small, in many industries. Has the variation been intentional? Why?
It was intentional but not planned in most cases. Looking back, it now seems strange that the planned ventures did not do as well as the unplanned yet spontaneous ones. This doesn't mean that planning leads to wrong decision, but perhaps some of us get so lost in the details that the gut feeling of a project or a venture gets lost in the process. I have always had a high risk appetite, coupled with strong ambitions and a belief in hard work. This led to undertaking various entrepreneurial ventures in sectors ranging from the capital market to manufacturing concerns across different countries. Further, my decisions were driven by the desire to get the most done in one lifetime and to quit when I stopped enjoying my work, which made me change and fortunately, grow.

With the experience you have gained while navigating multiple industries, what would you say about the future of Pakistan's industry and economy in general?
Pakistan's economy and industries have a tremendous potential, however whether we are able to turn that potential into reality is anybody's guess. Despite a brain drain over the last few decades, we still have a large base of experienced professionals in the private sector with strong work ethics. The reason we are not able to live up to the country's potential is lack of clarity of the role of non-technocratic public sector officials in decision making. Ill-informed decision making has, over the years, resulted in sub-optimal policies and systems leading to systemic inefficiencies. Added to this is a non-transparent and draconian accountability system which encourages inability to take and implement decisions. Strong geo-political positioning, sizeable population and availability of minerals and other resources are natural advantages which can only be translated to economic and industrial inclusive growth with the right set of leadership in various areas. However, fortunately there has been a recent increase in public awareness and a desire in some of our national institutions to check this consistent deterioration, which are expected to put Pakistan on the path of economic and industrial growth in the future.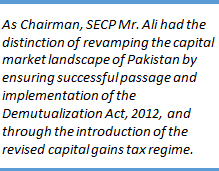 Of the various roles you have held in many different organizations, which has been the most fulfilling, and why?
Professionally every role I have held has been fulfilling in its own way as most of my career has been spent converting ideas into businesses in the face of challenges which required constant strategic thinking. However, at an emotional level, it was my role in the public sector, as Chairman of Securities and Exchange Commission of Pakistan which was much more fulfilling than any role in the private sector that I had, because the impact of decisions which I took during my SECP tenure was at a national level, allowing me to in some way to contribute towards addressing the economic needs of our nation.

In the course of your career, you have worked in both the private and the public sectors. What is the major difference you have felt between the two?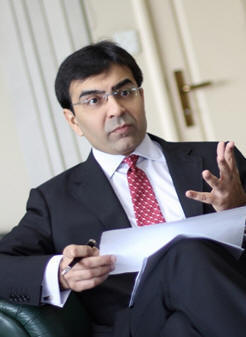 The private sector is driven by personal ambitions, needs and motives with a right set of accountability tools ensuring that rewards are directly linked to performance. In the public sector one needs inherent motivation which may not lead to any personal benefit but can impact the country at large. Accountability mechanisms are weak and thus sincerity to the assignment is supreme if one desires to do justice to the position. The stakes are therefore higher in some ways in the public sector, and consequently, so are the responsibilities.

You very recently visited and toured the IBA campus. Apart from the very obvious infrastructural changes, what difference (if any) did you feel between the IBA of today, and the IBA you studied in?
Besides infrastructure, an increase in the number of students and an introduction of various new programs, I felt three major differences. First was a relaxed environment which should lead to freer thinking and openness of discussion. Second was a better qualified and more experienced faculty which should impart better knowledge among the student body. Third was a high level of motivation among various academic and non -academic units showing that most units are consistently improving and working towards betterment of the organization. As I had coordinated the visit of my class, these changes became more evident from the efficiency with which various departments came together to make our trip a memorable one.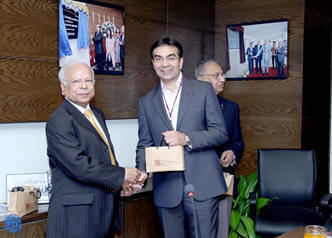 Do you believe IBA graduates have a competitive edge in the corporate world? Why or why not?
Yes, I take pride in stating that IBA is one of the few institutions which has not deteriorated over the years, rather has gotten a lot better over the last few decades which should have been the case with most academic institutions. We have IBA graduates in our various organizations and they still are among the best in the country. Here I would like to add one concern which I have always had with our business schools. IBA produces graduates for a job environment. A very important quality which IBA should work on is inculcating the ability to take risk. No country has achieved economic growth without new ideas and the ability to convert these ideas into real businesses. I hope and believe that IBA's Center for Entrepreneurial Development is playing an important role in that direction but this is a quality which every IBA graduate should possess. Important pre-conditions for taking quantum leaps in life are the ability to accept new ideas, to accept change and to take risks in life at some stage. We need to convert our professionals into businessmen to produce global level organizations managed on honest and professional lines.


How much of your success do you owe to your educational institutions? How much has been achieved through your own struggle and personal capabilities?
Besides being extremely lucky, I owe it all to my education institutions and among them IBA played the most important role. We never realized during our stay in IBA how IBA reprogrammed our brains over a four-year period and gave us tools to evaluate various professional and personal situations in a methodical manner to arrive at the best possible decisions. Among other things, IBA taught me leadership, communication and the ability to think better and deeper. All I did was worked extremely hard and was never shy to take risks. My academic institutions therefore contributed significantly to my personal and professional success.

In your experience, is the perfect work-life balance as evasive as it is renowned to be? Do you have any tips in that regard for aspiring business graduates?
With few exception, successful people rarely achieve a perfect work-life balance on consistent basis. Different phases of our life are dominated by different set of activities. I believe we all naturally have one or a few passions at every stage of our life and we are inclined to work towards those, be it personal, social or professional. In today's fast changing and competitive world, first generation success is extremely difficult if one wants to achieve this balance too. Thus, I never had this perfection and I never desired it either.

If you could pinpoint one human characteristic as the key determinant of a successful career (e.g. attitude or perseverance) what would that be?
Positivity - in everything. Positivity leads to optimism, to trusting people, to seeing good in people, to doing constructive things in life, to listen, to accept new ideas, to creativity and eventually to live a fuller life while achieving professional success.

Do you have any message for the alumni and students of IBA?
Think about the purpose of your existence and try to make a difference at a mass level. IBA graduates are the luckiest and among the best professionals in the country. This country has given all of us so much, because of which we all carry a responsibility to give back to this nation at some stage in our lives.

Related Links

Take a sneak peek into the new IBA. View how your beloved institution has transformed leaps and bounds in recent years.

Send us your request and we'll deliver your card.

A hassle-free entry to campuses, access to on-campus facilities and offers from renowned companies.

Featured Interviews