Procter & Gamble Alumni Gathering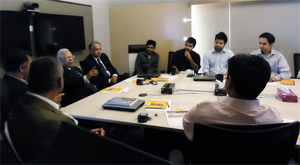 October 22, 2012: Alumni at Procter & Gamble came together as IBA fraternity to welcome Team IBA at their Head Office in Karachi on October 22, 2012. In an effort to strengthen the bond between the Alumni and the Alma-mater, Dean & Director IBA, Dr. Ishrat Husain was accompanied by Director Alumni Affairs, Zafar A. Siddiqui and Alumni Manager, Haris Tohid Siddiqui. Country Head, Procter & Gamble Pakistan Faisal H. Ali Sabzwari who is also an alumnus of 1996 welcomed Team IBA on behalf of the P&G alumni. More than 20 alums assembled in the conference room of the head office at Karachi and a handful connected via video conferencing from Dubai to view the progress at IBA.
Mr. Sabzwari, in his welcome note, thanked Team IBA for bringing together alumni in his company which according to him was the first of its kind! He appreciated the efforts of IBA management in transforming the institute not only in terms of physical infrastructure but also with regards to change in mindset. "Back in the 90's we studied in the same building as our predecessors did in 50's but today the transformation is unbelievable. Few months back, I was astonished to see the Boys' Hostel which seemed too good to be true."
Dr. Ishrat Husain was delighted to see a mix of young and experienced alums interested in getting apprised of the transformation at IBA. Dr. Ishrat highlighted the fact that infrastructural and academic changes are part of the vision to place IBA in top 100 business schools of the world. He emphasized the need for alumni to actively participate through monetary and intellectual assistance in helping IBA achieve its goal. "Alumni are a source of pride for IBA. We not only require their help in guiding students through mentoring and career counseling but also in raising funds in various capacities."
A formal presentation on IBA was delivered by Mr. Zafar A. Siddiqui who guided the alumni through various stages of transformation, IBA has undergone in the past 4 years. Awe-struck at the changes, Alumni would inadvertently clap, as they viewed the contrasting images of the old and new campus facilities. Mr. Siddiqui highlighted the establishment of different centers for research and development purposes alongside the curriculum changes. "Alumni need to donate towards the Alumni Students Centre which will serve as a tangible reminder of their times at IBA."
The Presentation was followed by a Q & A session which mostly centered on alumni reminiscing their times at IBA. Alumni present in the room and through video conferencing were ecstatic about the developmental changes at their alma-mater and vowed to give back to IBA in individual and collective capacity. Dr. Ishrat and Mr. Siddiqui offered the alumni to take a campus tour with a pick up from office by IBA transport bus which was readily agreed by all.