IBA Alumnus Appointed Chairman, Pakistan Stock Exchange Limited (PSX)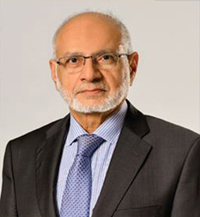 On behalf of the IBA we extend our heartiest congratulations to Mr. Husain Lawai, IBA Alumnus, Class of 1967, on being appointed as the Chairman of the Pakistan Stock Exchange Limited (PSX).

Currently, he is the Chief Executive Officer, Institute of Bankers Pakistan and the Vice Chairman, Summit Bank Limited. Mr. Lawai has also chaired the Central Depository Company of Pakistan Limited and served on the boards of Pakistan International Airlines Corporation, State Life Insurance Corporation of Pakistan, and Sanofi-Aventis Pakistan Limited, amongst others.

We wish him best of luck on his recent appointment and future endeavors.