IBA Alumni in the US: Dinner with the Consul General Pakistan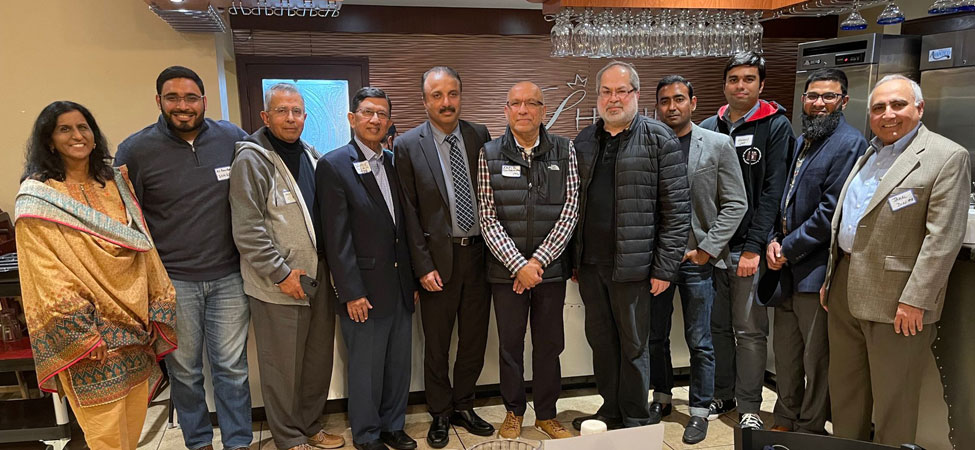 On October 28, 2021, the IBA Alumni had an excellent dinner meeting, attended by 12 persons from the mid-west chapter. His Excellency Mr. Tariq Karim, Consul General Pakistan was the Guest of Honor, who presented some thoughts on how; the chapter can be more focused and constructive. He also expressed his will to extend all possible support.
The discussion started with a brief introduction of the participants, leading on to categorizing into sub-groups for three different purposes:
Work for 501C (Tax Exemption for donations to IBA)
Work for Endowment fund for IBA's student/s in need to financial aid (lead by Samie Allam)
Work to have a Pakistan House / Museum to help improve image of Pakistan in USA and mid-west, on a self-sustaining model (lead by Imad Khaja)
A special gift was presented to Mr. Tariq Karim. The dinner was attended by Mr. Ali Raza Madni (2014), Ms. Aziza Rangoonwala (1982), Mr. Farid Currimbhoy (1976), Mr. Imad Khaja (2001), Mr. Jamal Din (1978), Mr. Omar Nasib (Guest), Mr. Ovais Siddiqui (2007), Mr. Nadeem Naqvi (Guest), Mr. Noel Clive (1978), Mr. Mohammad Ahsun Ghias (2015), Mr. Sabah Hasan (1979) and Mr. Samie Allam (1978).
There was a general thought by all attendees to organize an Annual IBA Mid-West Chapter meeting in Spring every year.