Dear Alumni,
We are happy to bring some amazing updates for you! Here's your chance to catch up on all things Alumni-related at IBA!
Industry Specific Reunion at your alma mater!!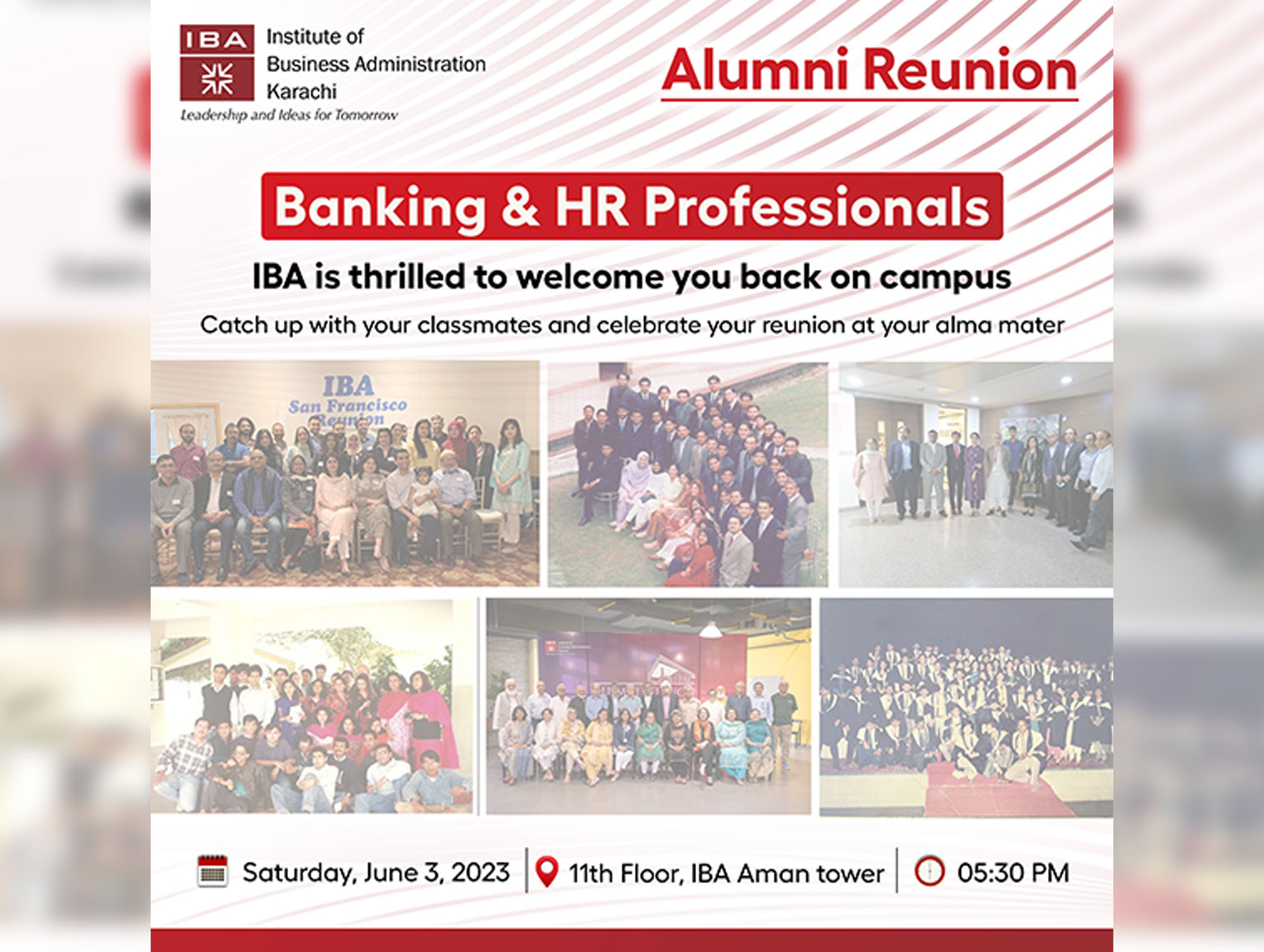 We are excited to invite you to our upcoming industry-specific reunion for HR and Banking Professionals. You can benefit from this opportunity to see your classmates with whom you have lost touch and reminisce your memories. The meet-up will provide a platform for industry-specific professionals to share best practices, learn from each other, share experiences and build meaningful networks.

Please fill in the Google form https://lnkd.in/d64zu5gq and confirm your attendance by May 31, 2023. Its at Aman Tower, IBA city campus.
If you are also interested in organizing industry specific reunions, please write to us at alumni@iba.edu.pk
Tum Main Aur Aik Cup Chai in collaboration with Tapal!!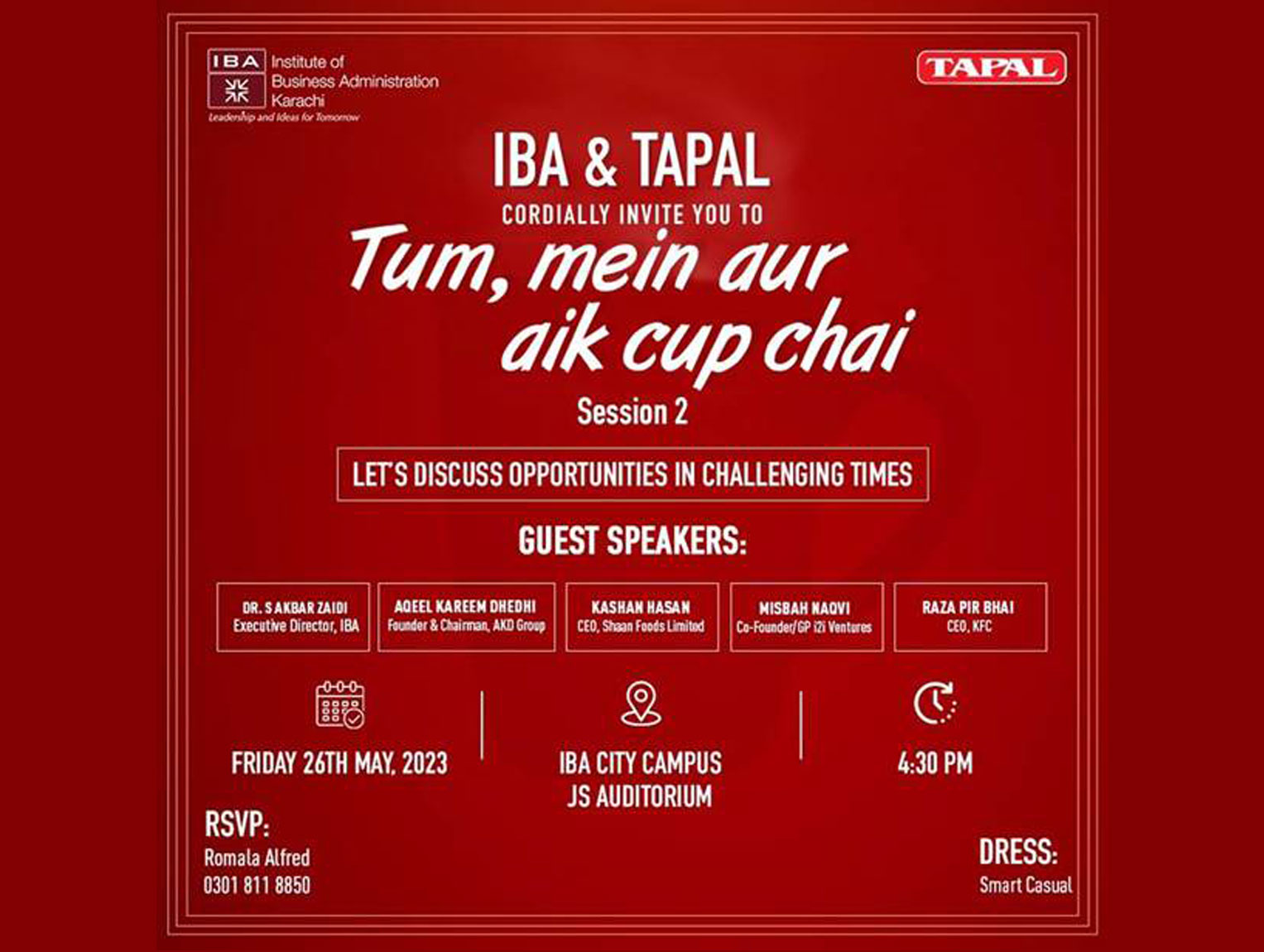 Dear Alumni,
We are excited to invite you to the second session of our series 'Tum Main Aur Aik Cup Chai,' in collaboration with Tapal.
Event Details:
Date: Friday, May 26, 2023
Time: 4:30 pm onwards
Venue: IBA City Campus
This event aims to bring together individuals from diverse backgrounds for an evening of insightful conversations over a cup of tea. The panel discussion for this session will revolve around the topic of 'Opportunities in these Challenging Times in Pakistan.' Distinguished experts from the finance industry will be participating, sharing their valuable insights and engaging in thought-provoking dialogue.
In this session the following esteemed panelists will contribute their expertise and perspectives:
Dr. Akbar S. Zaidi, Executive Director IBA
Aqeel Karim Dhedhi (AKD), Founder and Chairman of the AKD Group
Kashan Hasan, CEO Shan Foods Limited
Misbha Naqvi, Co-Founder/GP at i2i Ventures
Raza Pirbhai, CEO KFC
Their valuable insights and diverse experiences are sure to provide a deep understanding of the opportunities that exist in Pakistan despite the challenging times.
If you are willing to attend the event, kindly fill out the Google Form given below:
https://forms.gle/g5iTzdPky4dEGw6a9
Bring together alumni to launch new chapters across the globe!!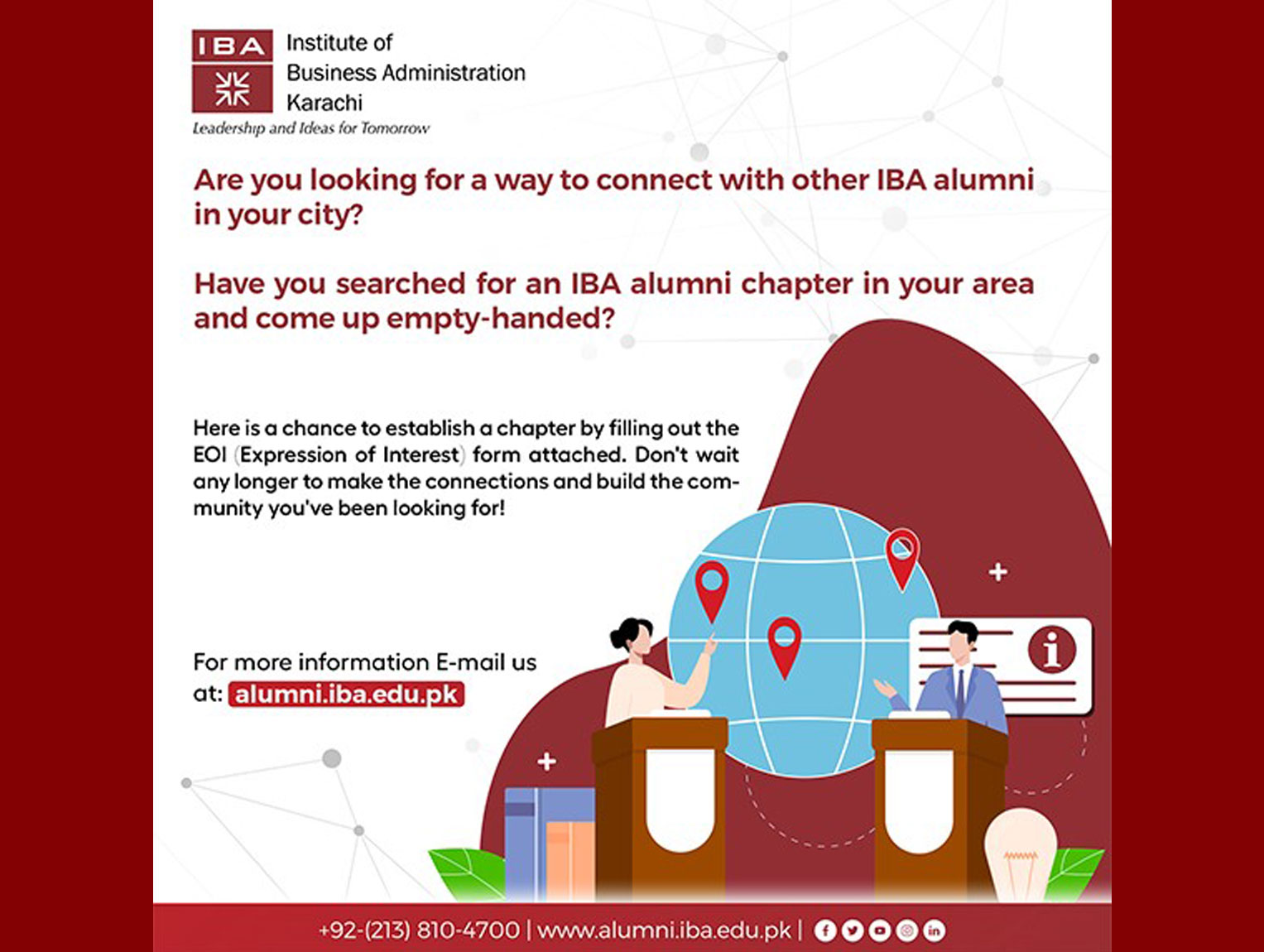 Entrepreneurship Summer School by CED!!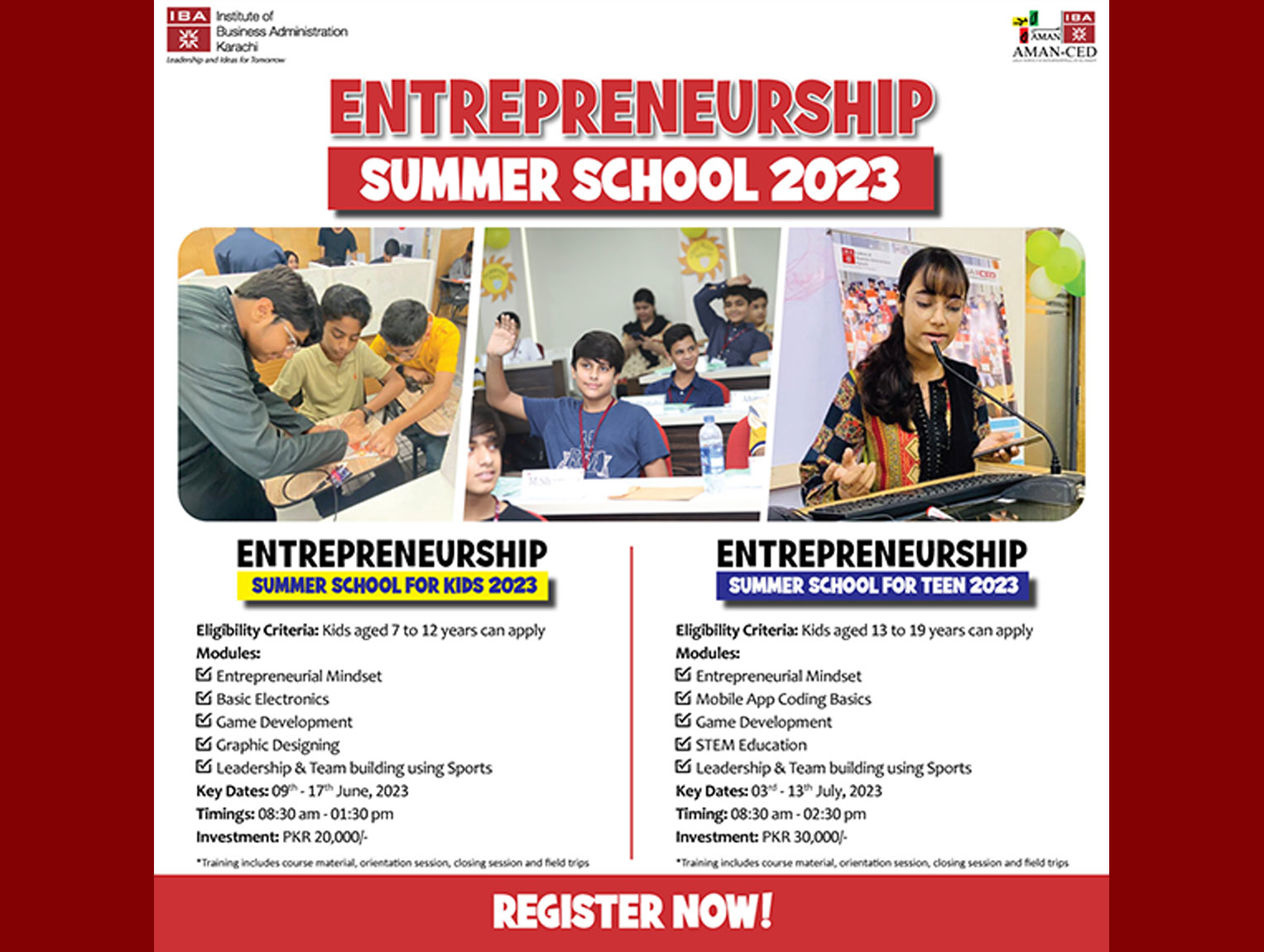 IBA is excited to announce the Entrepreneurship Summer School (ESS) 2023 for Kids aged 7-12 Years & Teens aged 13-19 Years.
The program's framework is thoughtfully designed to provide hands-on experience in entrepreneurship, basic electronics, game development, prototyping, sports, mobile app development, STEM Education, and graphics designing. The program seeks to inspire and empower kids & teens with the skills and confidence necessary to achieve success as future entrepreneurs.
During our program, Kids & Teens will:
Learn the basics of entrepreneurship and how to turn their ideas into a business.
Build critical thinking, problem-solving, and communication skills
Gain confidence and leadership abilities
Make new friends and have fun! Don't miss out on this incredible opportunity to help your child unlock their potential and become a future business leader.
We have two separate programs for Kids and Teens with the following details:
IBA ESS for Kids 2023
Dates :09th June – 17th June 2023
Days: Total seven days
(5 days training, 1 day orientation, 1 day closing)
Time: 08:30 am – 01:30 pm
Investment: 20,000/-
Modules :
Entrepreneurial Mindset
Basic Electronics
Game Development
Graphic Designing
Leadership & Team Building for Sports

IBA ESS for Teens 2023
Dates: 3rd July -13th July
Days: Total ten days training
(8 days training, 1 day orientation, 1 day closing)
Time: 08:30 am – 02:30 pm
Investment: 30,000/-

Modules:
Entrepreneurial Mindset
Mobile App Coding Basics
Game Development
STEM Education
Leadership & Team Building using Sports

𝑬𝒏𝒓𝒐𝒍𝒍𝒏𝒐𝒘𝒇𝒐𝒓𝑬𝒏𝒕𝒓𝒆𝒑𝒓𝒆𝒏𝒆𝒖𝒓𝒔𝒉𝒊𝒑𝑺𝒖𝒎𝒎𝒆𝒓𝑺𝒄𝒉𝒐𝒐𝒍 2023!
𝑬SS for Kids: https://lnkd.in/dJuWBygX
𝑬SS for Teens: https://lnkd.in/dUQivhiw

15% Special Discount is offered to the siblings / kids of IBA Alumni.
Alumni Reunion - Islamabad Chapter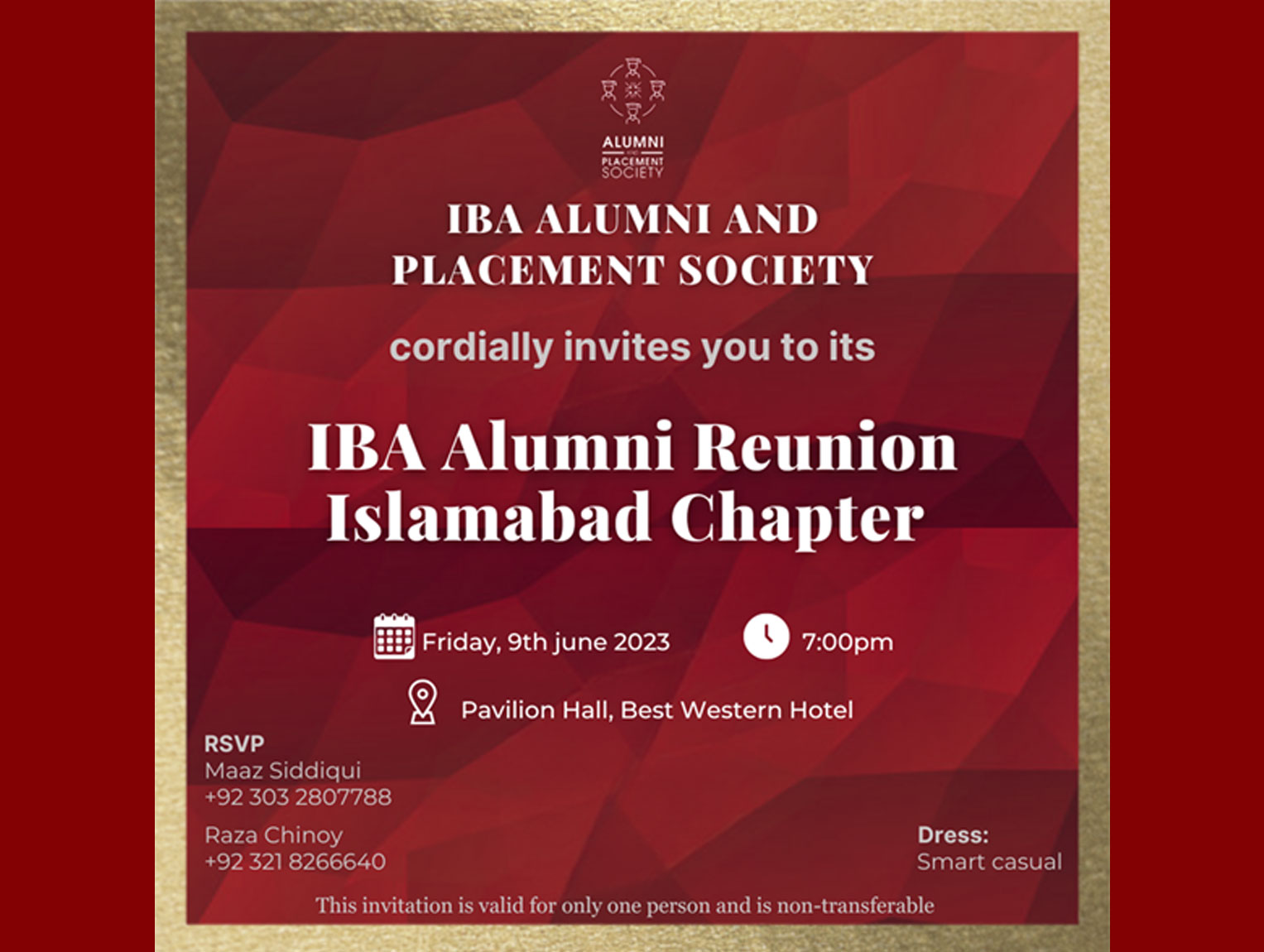 IBA Alumni and Placement Society is arranging a reunion in Islamabad, you are all cordially invited.
Date : Friday, June 9, 2023
Venue : Pavilion Hall, Best Western Hotel
Time : 7:00 pm
Please fill in the Google form and confirm your attendance.
https://forms.gle/yEApYk4cyPf75MTe8
Alumni Achievements!!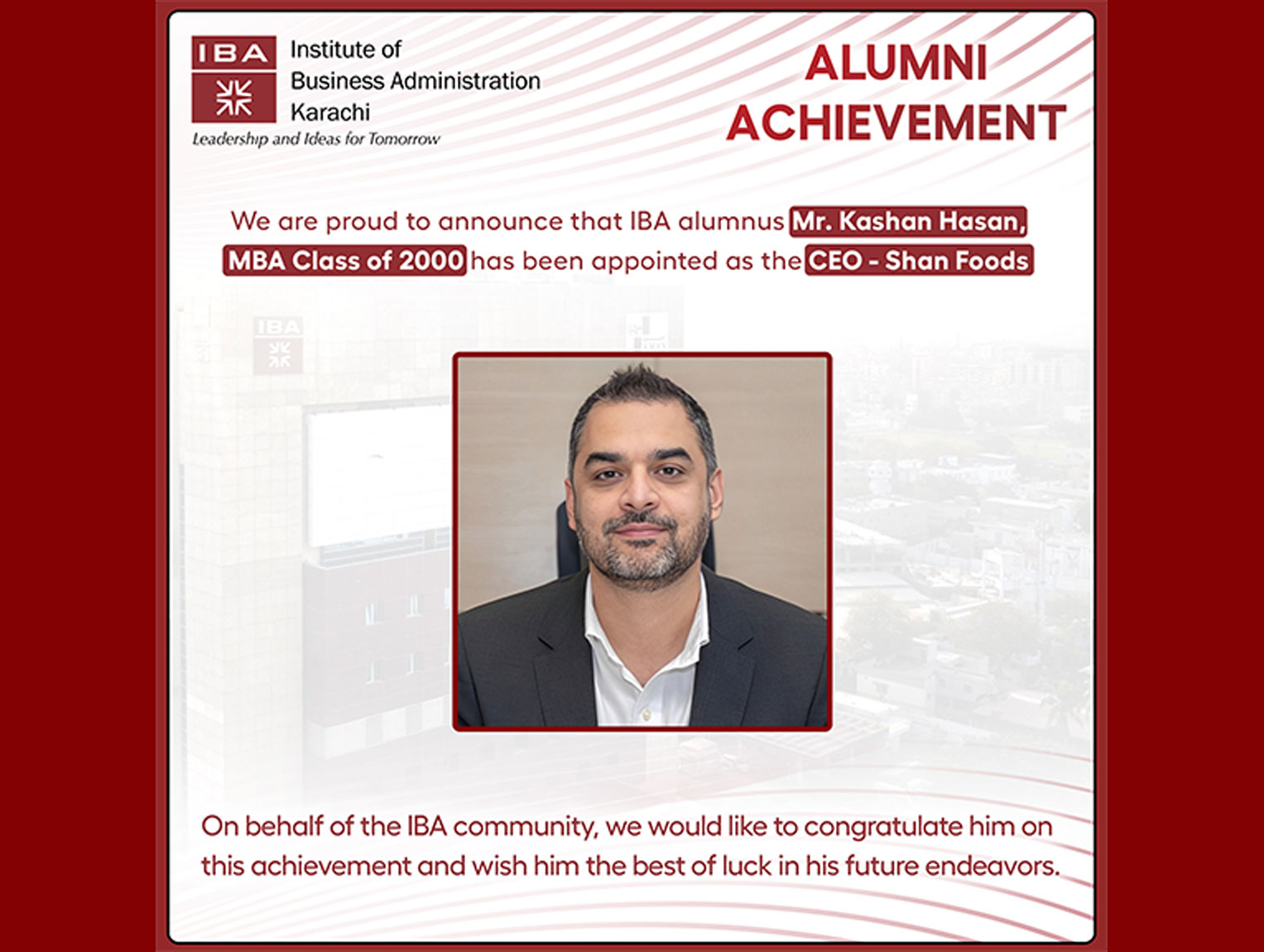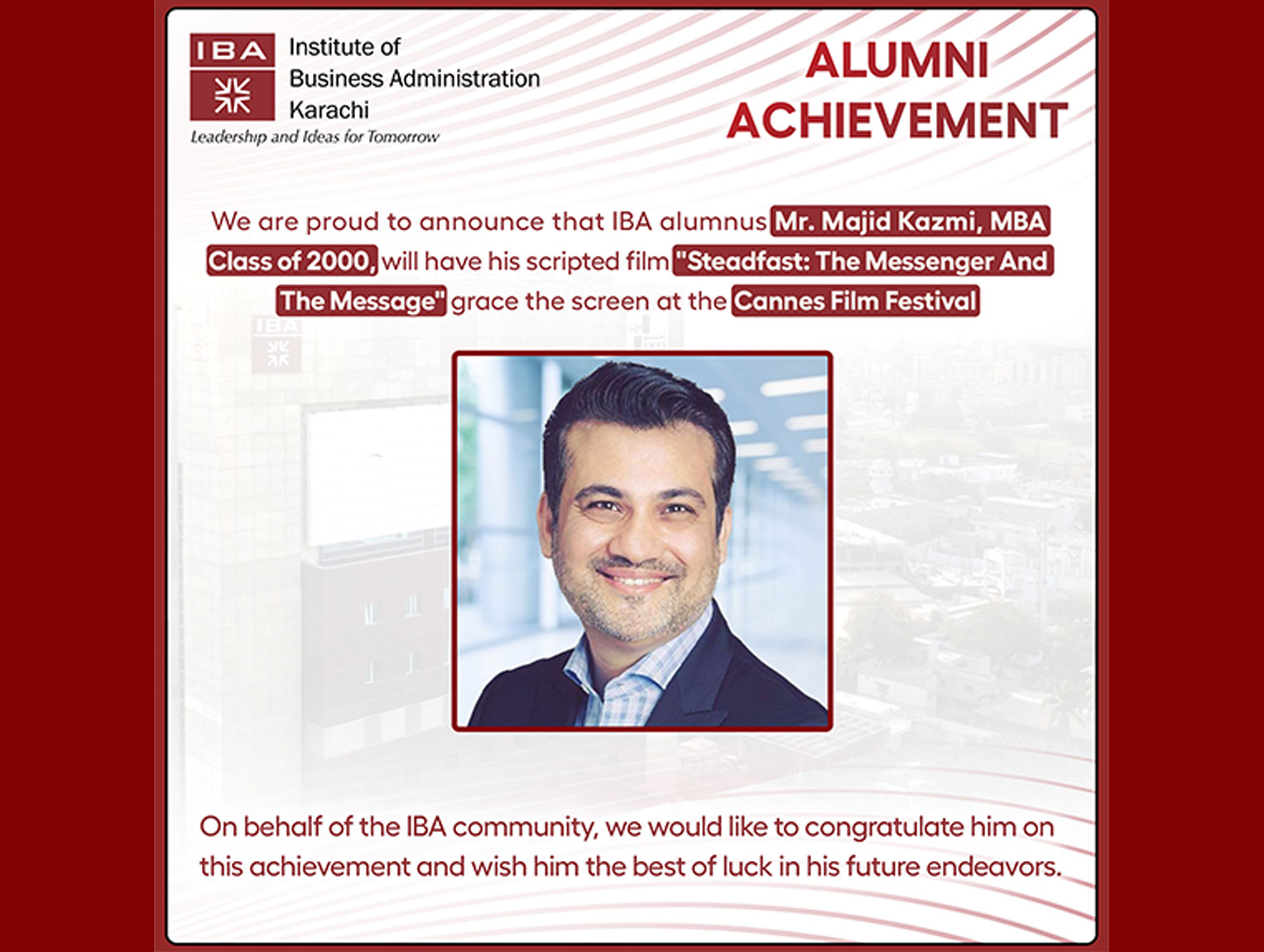 We feel proud of all of you who are doing exceptionally well in Pakistan and around the globe and your alma mater is interested in hearing about your milestones/success stories.
We would like to showcase you across our different platforms at IBA Karachi.
Make an impact where it matters!!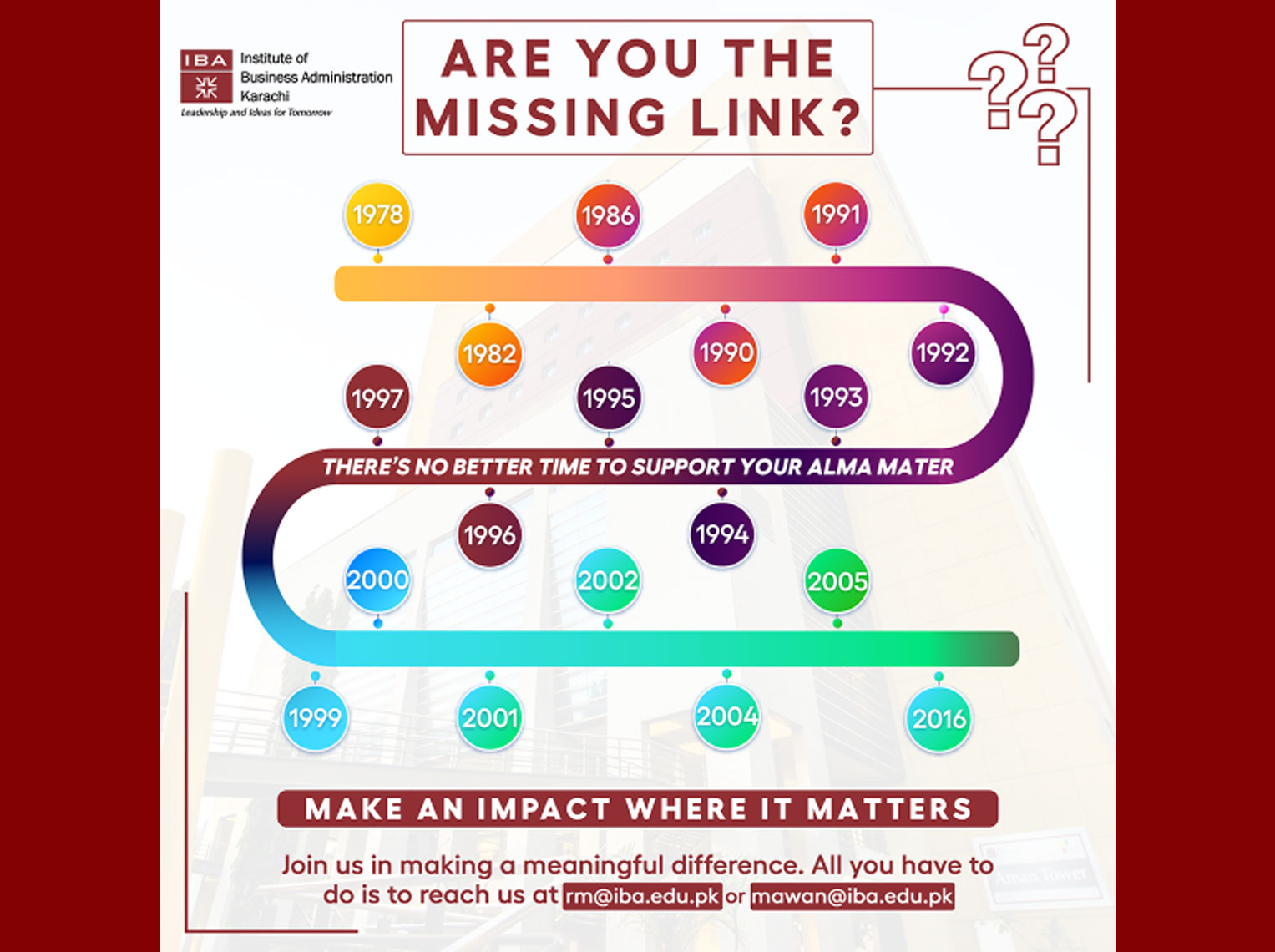 An endowed scholarship ensures that IBA can continue supporting one student in perpetuity under your name. This sadqa-e-jaria enables your class to create a legacy that will continue to help those who need it the most as well as connect you with your alma mater for years to come!
Since IBA's founding in 1955, we have had over 65 batches graduate from IBA! By creating a fund for each class, IBA can ensure hundreds of talented students receive the financial support they need to complete their education at IBA!!!
Take a step towards helping your class get on the map and contact the IBA Resource Mobilization Department (rm@iba.edu.pk) to learn how you can be part of building YOUR legacy!
Stay connected with us!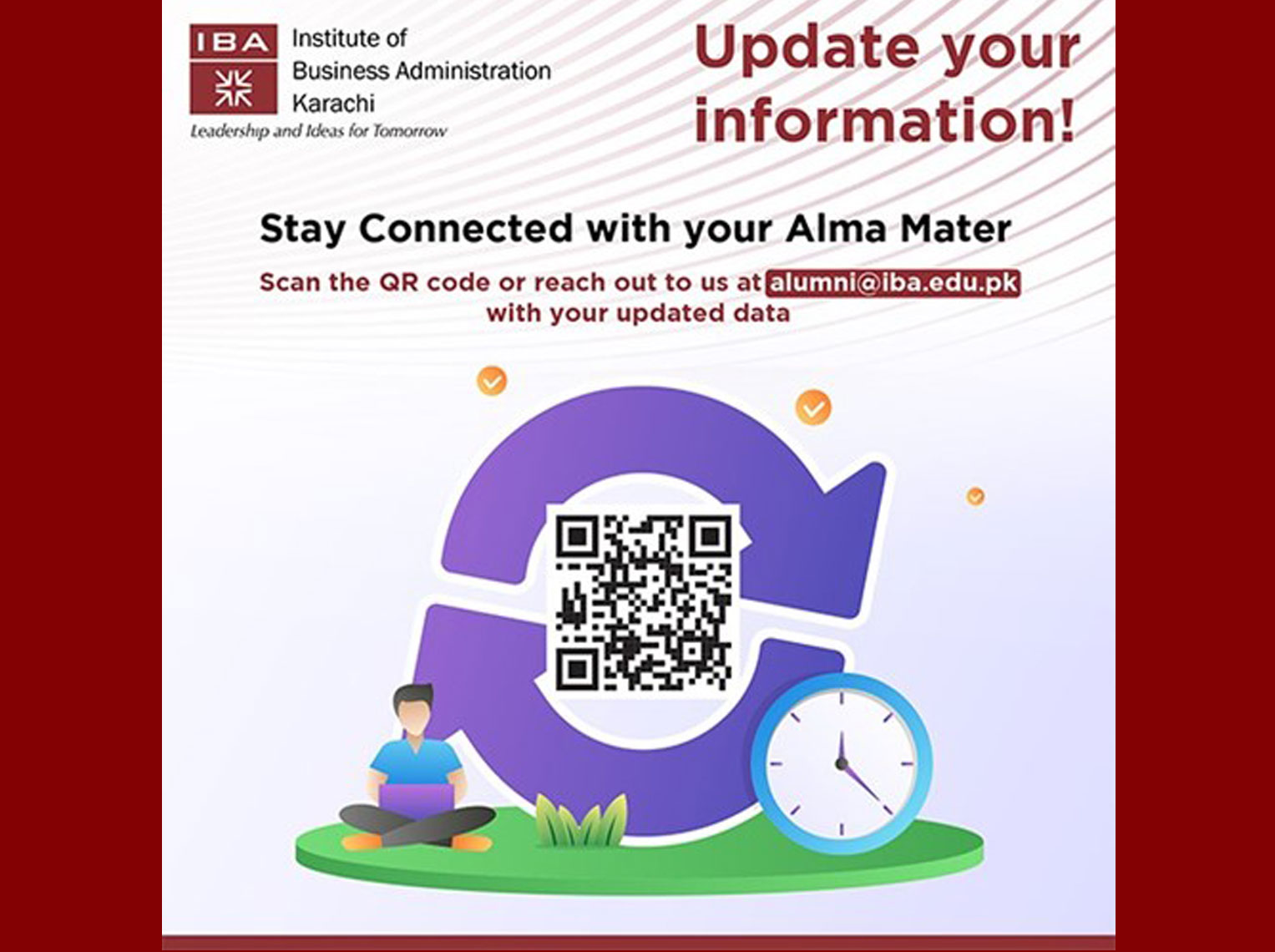 Regards,
Alumni Affairs Department
Connect With IBA Alumni Affairs: