An evening of excellence and inspirational stories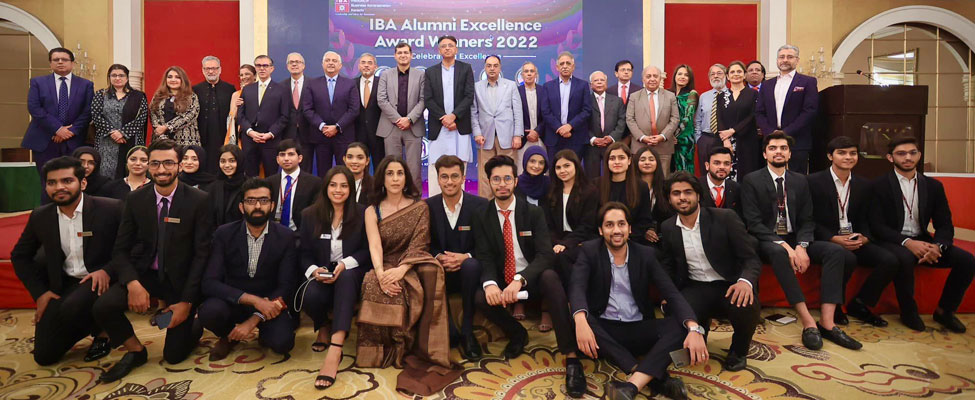 March 10, 2023: IBA celebrated the IBA alumni Excellence Awards on March 10, 2023 at Movenpick. The idea behind the event was to honor and acknowledge some of the most accomplished alumni that IBA has produced. Award recipients were selected by a jury based on their contributions in the fields of professional excellence, entrepreneurship, environment, governance, diversity and inclusion, arts and media, philanthropy, and sports among others. The 13 award winners for 2022 are the following:
Ms. Mahoor Shahzad for her excellence in Badminton (2018); Mr. Asif Peer, CEO System Ltd. (1999); Ms. Narmeen Khan, Managing Director (Malaysia & Singapore), Mondelēz International (1997); Mr. Shakir Moin, Chief of Marketing North America, Coca-Cola (1993); Mr. Zafar Masud, CEO, Bank of Punjab (1993); Mr. Sabir Sami, Global CEO, KFC (1988); Mr. Amir Adnan, Owner, Amir Adnan (1987); Mr. Ruhail Muhammad, CEO, Lucky Electric Power Co. (1986); Mr. Sulaiman Shahabuddin, President, Aga Khan University(1986); Mr. Asad Umar, Former Finance Minister of Pakistan (1984); Mr. Shabbir Diwan, CEO, Gatron Industries Limited (1983); Mr. Mohammad Zubair, Former Governor of Sindh (1981) and Ms. Shahla Aly, Vice President, gTech Ads Product and Tools Operations at Google.
In the welcome address, Dr. S Akbar Zaidi, Executive Director, IBA, lauded the alumni community's contributions. Mr. Mohammad Sohail, Alumni Representative on the IBA Board of Governors, also praised alumni for their efforts. The event was moderated by Ms. Malahat Awan, Director, Alumni Affairs and Resource Mobilization, IBA.
The event closed with dinner and networking as old colleagues and classmates came together to celebrate this iconic moment of celebrating brilliance at IBA.
Congratulations to all!