Alumni Students' Center - Alumni Fund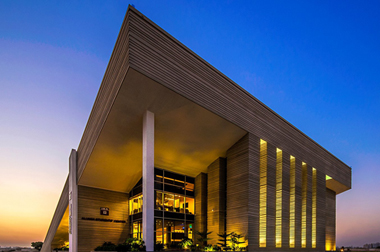 Alumni can now avail this one of a kind facility offering an array of services. The Pepsi dining Hall and its adjoining coffee shop offer a range of food service facilities and serve a variety of menu items. The Center also has in its environs separate gymnasia for male and female students, two badminton courts, ping-pong tables, a pool table, 2 foosball tables and dart, board game facilities, a writing center, a 200 person capacity event hall, and a state of the art amphitheatre with seating available for as many as 400 persons.
Also forming part of the Center is a bookstore, a resource centre equipped for office support and photocopying. Finally, there are six chapter rooms which serve as venues for the planning and execution of the various extra- and co- curricular activities conducted by student societies and clubs that form part of IBA's annual event calendar.
Hours of Operation
The following general policies and guidelines pertain to usage of the Alumni Student Center. While official University classes are in regular session, activity hours for the Alumni Student Center are as follows:
Opening / Closing Timings
| | |
| --- | --- |
| Monday – Saturday | 8:00 am - 7:00 pm |
| Sunday | 12:00pm - 3:00pm |
Service Timings for Facilities
| | |
| --- | --- |
| PEPSI Cafeteria | Same as Opening / Closing Timings |
| Coffee Shop | Same as Opening / Closing Timings |
| Resource Room cum Photo Copy Shop | Same as Opening / Closing Timings |
| Fatima Group Indoor sports Area | Same as Opening / Closing Timings |
| Khawar M. Butt Gymnasium | 8:00 am - 11:00am and 2: 30 pm to 7:00pm (Daily except Sunday) |
| Cowasjee Center for Writing | As per schedule to promulgated by the Director of the center |
| Book Shop | 9:00 am to 5:00 pm (Daily except Sunday) |
| Student Lounge | 10:00 am to 12:00 pm and 3:30 pm to 7:00pm (Daily except Sunday) |
| Amphitheatre Area | As per requirement |
| Office space for Societies | As per requirement |