Dear Alumni,
We are delighted to present our latest newsletter filled with remarkable happenings at IBA. First and foremost, we are thrilled to announce the highly anticipated Alumni Grand Reunion, scheduled to take place in the month of December. Another exciting addition to our calendar is the upcoming Mentorship Series, featuring Mr. Ghias Khan, President & CEO of Engro. With his exceptional expertise and vast experience, Mr. Khan is sure to inspire and guide our aspiring alumni towards new heights of success.
So brace yourself for an array of extraordinary happenings and stay tuned!
Calling all Alumni present in Karachi on the 28th of December 2023!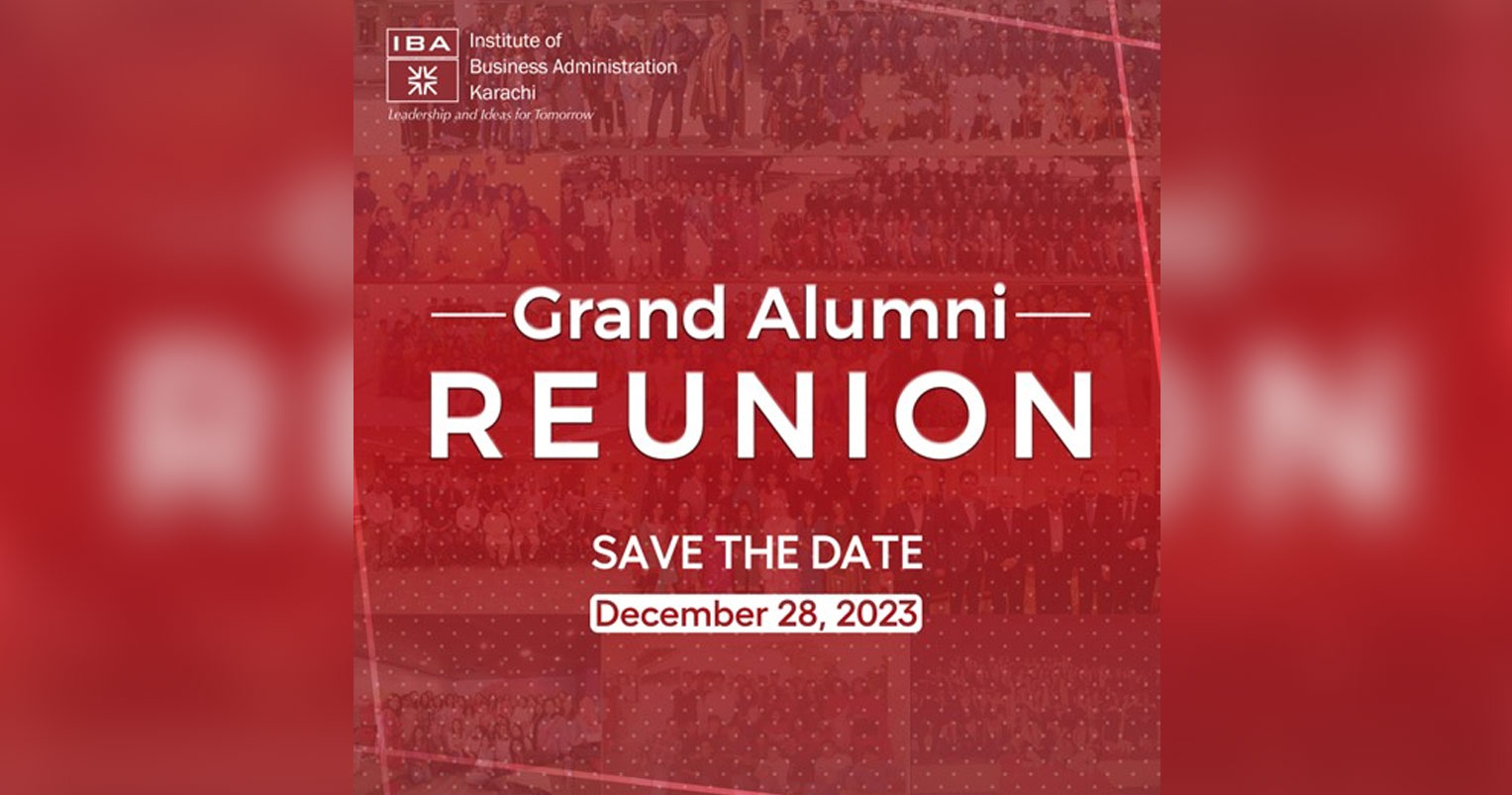 Let's bridge the miles and reunite again at our alma mater. We extend a warm invitation to all Pakistani alumni and expat alumni who are visiting Pakistan during the holidays and for weddings, to join us at the Grand Alumni Reunion for an evening of fun, festivities and reconnection. Meet with your old batchmates and take a tour around the main campus to see how IBA has grown.
Please spare a few moments and fill out the Google form below to reserve your spot.
Google form: https://forms.gle/EfvhYTVKZGeUtw5P8.
Save the date and join us for the Grand Alumni Reunion!
Thursday, December 28, 2023
Cultivating Excellence: Join the mentorship session with Ghias Khan!!
We are thrilled to announce the launch of our next upcoming Mentorship Series, featuring an exceptional mentor, Mr. Ghias Khan, the esteemed President & CEO of Engro With his extensive leadership experience, Ghias Khan serves as Chairman on the Boards of Engro Fertilizers, Engro Polymer & Chemicals, Engro Enfrashare, and Engro Energy Limited, along with being a valuable member of the Board of Engro Foundation. Notably, in 2022, he was elected and served as the President of the Overseas Investors Chamber of Commerce & Industry (OICCI). Khan's pivotal role in reshaping Engro's strategy, culture, and global outreach makes him an invaluable guide in the professional world.
Join us on Friday, August 4, 2023, for an exciting learning journey as Mr. Ghias shares his insights on two crucial aspects of a successful career: resilience and reinvention. This session will focus on the "Perseverance-Pivot Dynamic," an essential skillset for thriving in today's ever-changing professional landscape.
Details of the session:
Topic: Resilience & Reinvention: The Perseverance-Pivot Dynamic
Day: Friday, August 4, 2023
Time: 5:00 pm onwards
Venue: IBA City Campus, Lecture Hall 'A' (12th floor Aman Tower)
Don't miss this exceptional chance to learn! Register now to secure your spot https://forms.gle/fMofowqL2Pvjjg9U7
IBA Alumni Startup Summit!!
CALLING ALL ALUMNI STARTUPS!! Save the date for August 05, 2023!!
Here's the perfect chance for you to showcase your startup and pitch to possible investors at the Alumni Startup Summit! This event will bring together alumni startups to network with each other to find business synergies, engage with possible vendors and pitch their ideas to potential investors at the event!
If you are participating as a startup who would like to register: PLEASE CLICK HERE
If you are participating as an investor looking to invest in a startup: PLEASE CLICK HERE
Panel discussions with selected startups and investors will also take place during the event! Looking forward to welcoming all the best entrepreneurial minds on campus.
Help us craft the perfect menu of services tailored for you ! Your voice, Your choices!!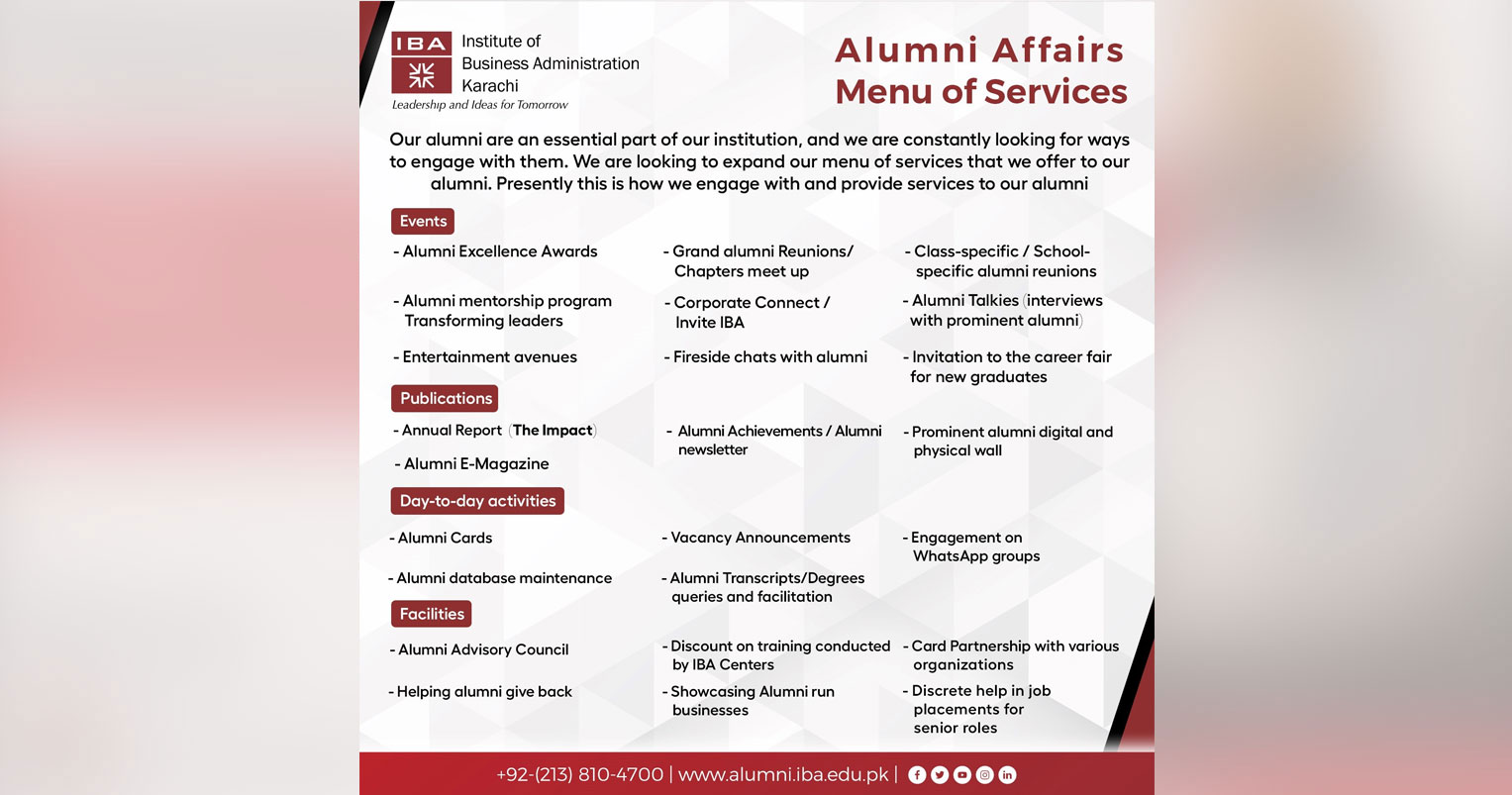 IBA Alumni Affairs is on a mission to engage, support and promote our alumni across various platforms at IBA Karachi and help them grow in their personal and professional capacities. In lieu of this mission, we are currently offering the attached menu of services to our alumni.
However, we can do so much more... and this is where you come in!! We welcome any ideas or suggestions that YOU may have regarding what the Alumni Affairs office could be doing to make your engagements more valued and meaningful.
Please share your feedback through this form: https://forms.gle/aujjRURstRZU8tAQ7.
Calling all alumni writers!!
Missed the opportunity? Here's your second chance !
The Alumni Affairs Department is currently preparing the upcoming edition of our Alumni E-Magazine, we would like to invite you to contribute articles that align with the theme of "Transforming challenges into opportunities - unlocking the potential of Pakistan".
Kindly send in your submissions along with your brief introduction & a high resolution profile picture via reply no later than Monday, July 31, 2023. Your timely contribution will be greatly appreciated.
IBA is Shariah Certified to disburse Zakat to deserving students!!
Alhumdullilah! IBA has received it's shariah certification and has a shariah-approved zakat disbursement model to help deserving students. We encourage alumni and supporters of higher education to consider IBA as a vessel for disbursing their zakat as during these difficult times, numerous students are facing difficulty meeting their financial obligations and your zakat can help uplift them when they need it the most.
To learn more about how to donate your zakat, VISIT HERE
Alumni Achievements!!

We feel proud of all of you who are doing exceptionally well in Pakistan and around the globe and your alma mater is interested in hearing about your milestones/success stories. We would like to showcase you across our different platforms at IBA Karachi.
Creating waves in the business world!!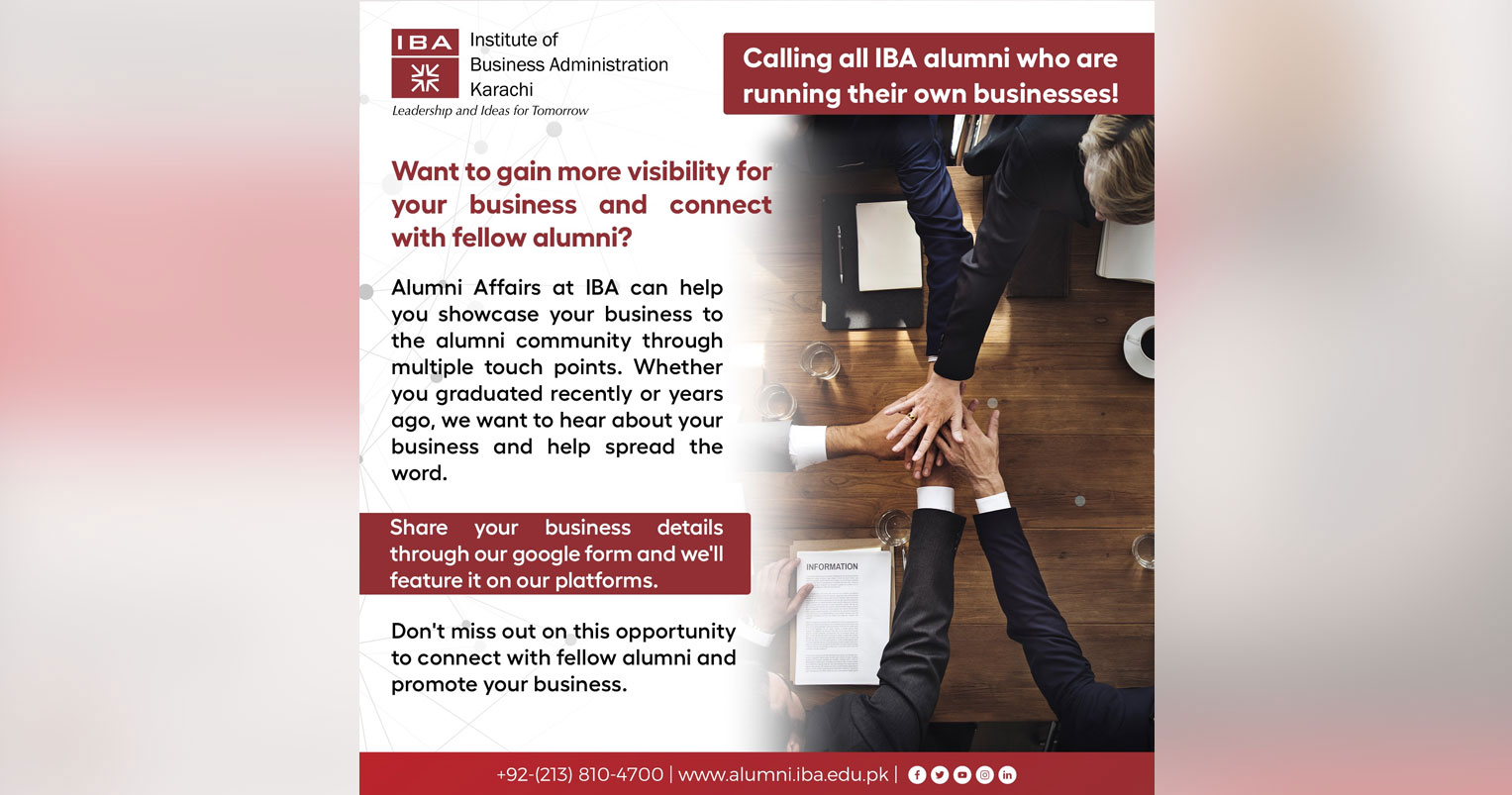 We recognize a lot of alumni are launching startups or are successfully running their own enterprises. We wish to help highlight your business and encourage your peers to consider visiting or giving patronage to IBA alumni run businesses. To help us stay updated about your recent business, please fill out the form https://forms.gle/FyVUQpP63mMyYihy5 so that we can share your information with the alumni network.
In case, someone would like to share information about more than 1 business, please fill out the form with a second entry and submit it another time so each business is recognized separately. We look forward to your overwhelming response.
Bring together alumni to launch new chapters across the globe!!
Stay connected with us!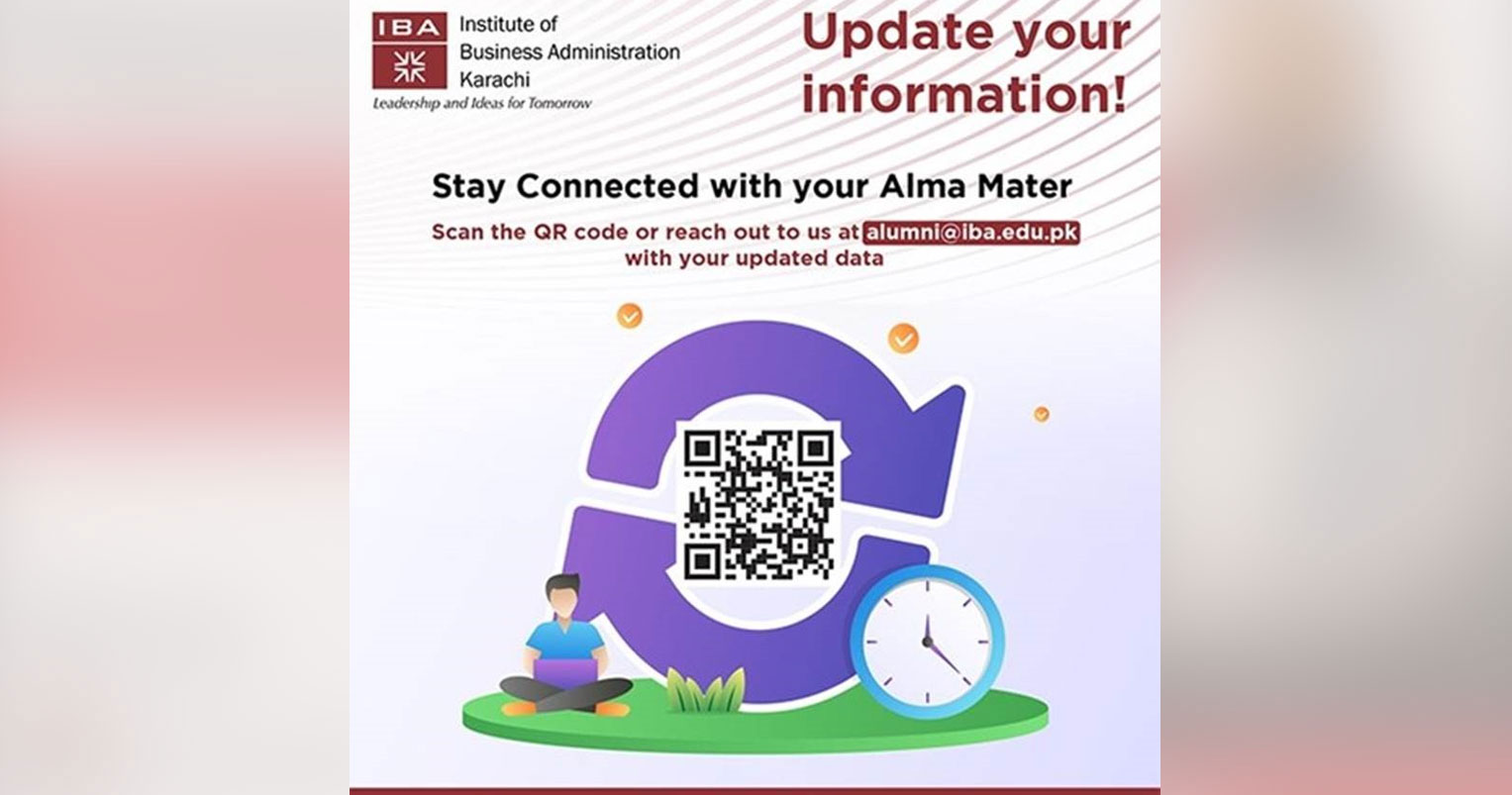 Regards,
Alumni Affairs Department
Connect With IBA Alumni Affairs: