By Danish Kazi, Alumnus 2002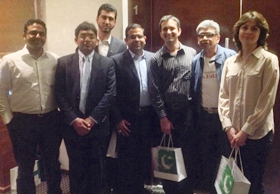 Living abroad where the image of Pakistan only referred to as the ongoing strife in the country, any opportunity to build the image of the country is a delight. With this in view, a group of Pakistanis in prominent positions organized an event to feature the positive side of Pakistan under the banner of 'Pakistan Change Initiative' in the last week of October.

The event featured the positive achievements of Pakistan since its inception through a display of a captivating presentation. It showcased Pakistani heroes, its scenic beauty, the tourist spots and where it stands in the world. The event also saw our eminent alumnus and member of Supervisory Board of Pakistan IBA Chapter UAE (PIC-UAE); Mr. Irfan Mustafa, as a key note speaker to grace the audience with his views on Pakistan as a nation. The event was attended by various nationalities spanning from Emiratis, Indians, Western Expats as well as prominent Pakistani expats; all of whom were seen leaving after the event with a progressive image about the country.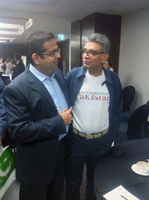 Care Pakistan, a well-known charity, was also showcased at the event. Many distinguished Pakistanis who have started their own ventures in UAE were also invited to highlight the skill of Pakistanis living abroad.

IBA Alumni attended the event to support not only fellow Pakistanis but also Mr. Irfan Mustafa, who along with Mr. Waqar Siddique, has been a driving a force behind the Pakistan IBA Chapter UAE (PIC-UAE) which is gaining steady recognition in the region. It has been invited to participate in many Pakistani and International forums alike; Pakistan Association of Dubai, Pakistan Professional Wing and now PCI to name a few.

With the new elected team already on board, I wish them all the best and hope that they continue to be part of such initiatives and many more.