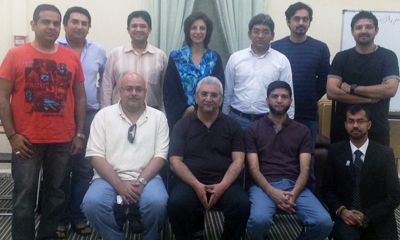 Despite a holiday on Saturday November 9, 2013, Alumni in UAE set aside their personal commitments and headed to Oud Mehta behind Iranian Club in Dubai to vote for the new office bearers for Pakistan IBA Chapter (PIC).

Four positions namely, President, Vice President, General Secretary and Treasurer were up for grabs. Two top positions of President and Vice President were hotly contested and after the voting ended, Syed Arfeen Alam emerged as the new President of the Pakistan IBA Chapter while Uzzam Malik was declared the Vice President. Tabassum Vally and Rehan Ali were elected as General Secretary and Treasurer respectively.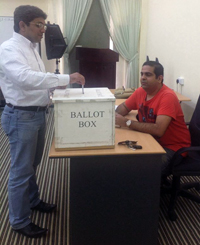 Previous elections were held 3 years back at the launch of the IBA Alumni UAE Chapter in Dubai where the team headed by Danish Kazi made the Chapter, the most vibrant and dynamic chapter amongst all the existing Chapter around the globe. It was recently that IBA Alumni UAE Chapter was transformed into Pakistan IBA Chapter which is functioning under the aegis of Pakistan Association of Dubai (PAD).

Earlier in May, a Memorandum of Understanding was signed with PAD which allowed PIC to raise funds for IBA, create awareness of IBA and its alumni as an institution and support projects patronized by IBA in Pakistan and Pakistani community in the UAE.

In order to hold elections, a minimum of 50 members are required. Each member is required to pay a fee of AED 300 of which AED 50 will go towards membership and AED 250 will be utilized in conducting activities of the Chapter. Currently PIC has 64 members of which 18 turned out for electing the new team.

We wish the new elected team the best of luck in their future endeavours and keep up the high standards set by the outgoing office bearers.