Rotary Club of Karachi raises funds for IBA NTHP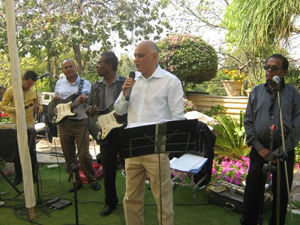 Rotary Club of Karachi (RCK) Fellowship Brunch was held on Sunday February 02, 2014 at the residence of Vice President Syed Iqbaluddin Ghazi, also the Managing Director of Sun Enterprises. The large number of RCK members saw past District Governors, renowned businessmen and literati accompanied by their spouses.

The Chief Guest at the event was Dr. Ishrat Husain, Dean and Director IBA Karachi who was invited to address the RCK members to raise awareness about the IBA National Talent Hunt Program.
Dr. Ishrat explained to the members how IBA, through this program, reaches out to meritorious students from underprivileged families mainly living from the backward districts of Pakistan by bringing them to IBA for a two months intensive orientation course. These NTHP scholars then appear at the IBA's entry test and those who qualify are provided full financial support for four years to complete BBA/BS degrees.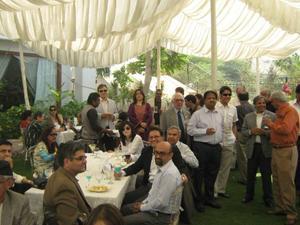 Dr. Ishrat exhorted the members to generously contribute towards this endeavour whereby not only they will change the life of an individual but will also transform the lifestyle of an entire family. He highlighted that the success of this program serves as an inspiration to the entire village of these scholars and encourage other enthusiastic yet under privileged students to make a name for themselves.

Mr. Ghazi played the perfect host and announced to fund 1 NTHP scholarship for 4 years and expressed his desire to make it a recurring affair.

"Most of us spend fortunes on our children's education. We are lucky to be afforded that opportunity but we should also not forget those for whom quality education is a distant reality." Mr. Ghazi quoted the President of United States, Mr. Barack Obama that "our success should not depend on accident of birth, but the strength of our work ethic and the scope of our dreams".

Following his lead, the guests pledged scholarships for the NTHP raising the commitments to 10. Each scholar costs about Rs. 2.5 million (including the monthly expenses) pursing the four year BBA and BS(Accounting and Finance) degree programs. For BS(Computer Science/ Eco. & Maths), Social Sciences, the cost is Rs. 2.0 million.

Later, RCK members were feasted to a sumptuous brunch.