The process of learning seldom takes place within our comfort zones, there is only as much that a professor can teach you and a limit to what you can learn within the brick and mortar walls of classes. University education is supposed to be all about exposure; to different people and their diverse thoughts, ideas, opinions. We, an odd group of students recently got the invaluable chance to literally go beyond borders and widen our horizons. Organized for the classes of Advertising and Media Management, 35 students (BBA and MBA) were recently taken for a study tour to Dubai from the 19th-25th of January 2012. Accompanied by faculty members, Ms.Farah Naz and Mr. Jami Moiz, this trip will be etched in our minds for a long time.

Day 1 of this tour started with an interaction with members of the IBA Alumni Chapter. An engaging session with Mr.Akber Ali Shah from Reckitt Benckiser marked our entry into the world of marketing in Dubai and an overview of fundamental principles at work. Then were speakers from the Alif investments Group, a group that has been providing Shariah-Compliant Investment opportunities in Dubai since 2009. Syed Arfeen Alam Head of Business Development & Commercial (Alif Investments), Muhammad Asif Jabber (Group CEO, Alif Investments) and Ms. Irum Umair Ali (Marketing manager, Alif Investments) talked on the various dimensions of being a Dubai Based Investment Company and more specifically of providing Shariah services. A captivating video on the influence that Muslims world-over are gradually gaining was also shown and evidence for the promising future of Shariah based business was thus provided for. A hi-tea was organized by Mr.Danish Kazi of the IBA Alumni Chapter, and the appetizing pizzas were sponsored by Mr.Irfan Mustafa of Yum Foods Group. The hi-tea provided a chance for us to network with the guests and speakers.

Then was a trip to the Dubai Mall which holds the distinction of being the largest Mall in the World (in terms of area). With a staggering 1,200 shops, this mall is labelled in retail history and has many achievements to its name. Dubai Aquarium, Underwater Zoo, Ice Rink, and the Dancing Fountain are some other highlights of the mall.

The start of Day 2 was with an engaging session with Mr. Qashif Effendi, the Group Head (Sales and Marketing) of ADNIP (Abu Dhabi National Industrial Projects). Mr. Effendi's session was on Industrial Advertising and he reflected upon this through his own experience at Rebranding ADNIP. By demonstrating the startling changes that branding brought to ADNIP, he shared his outlook on the advertising arena in the Emirates.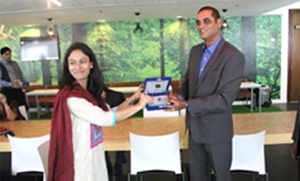 Next up was a visit to Festival city. This is a 1300 acre, premier waterfront urban community that has been designed such that it captures the ground breaking 21st century spirit of Dubai. From a festival centre for shopping, to dining, entertainment and leisure, and even a residential community, festival city is like a snapshot of Dubai at its best. We browsed and shopped through the unparallel assortment of retailers (over 400 shops including 25 flagship stores) that the festival centre had to offer and spent considerable time at this destination of style and sophistication, the "city-within-a-city". A stop-over at Imli Chilli followed, as they had invited us for lunch at their distinctive Pakistani-inspired food spot. Up next was Global Village.

Dubai boasts of having more than 80 nationalities, and perhaps Global village is the celebration of this very feature. For the past 15 years, Global village has been a forum for cultural entertainment and an international shopping experience. Pavilions from more than 28 countries construed this place, and it was an opportunity to experience and compare the nationalistic symbols and cultures these countries represent. Authentic handicrafts and merchandise, live performances and traditional cuisines highlighted our visit to global village. It was also a matter of pride to witness that the Pakistani pavilion was one of the best branded at the venue.

Sunday was marked by a visit to Starcom, where Ms. Jasmine divulged her standpoint on the advertising scenario in the Emirates, and the opportunities and flipsides it has. The essence of segmentation and targeting becomes all the more valuable in the Emirates where homogeneity in markets ceases to exist. An emerging digital media presents a chance to work around the challenges that a relatively conservative ethnic audience of Dubai presents. Then was a visit to Bloomberg, one of the most anticipated sessions of the Dubai tour. Mr Jehangir Hussain and Mr. Tariq Qureishy (CEO, Vantage Holdings) gave an overview of the core business at Bloomberg, i.e. to connect influential decision makers to a host of financial data, analytics and news. The supremacy of technology is a factor that Bloomberg advocates on as it connects people in over 192 locations and delivers its insights in real time. While Bloomberg is venturing into other avenues, its essence remains the same. A remarkable offer was also given as Mr.Tariq invited the students to apply for an internship opening at his venture.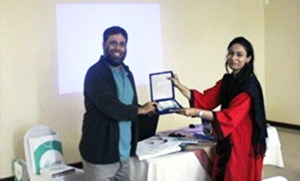 The itinerary for Day 4 was initiated with a session by Mr. CK Gunther, Director Kantar. Kantar is the second largest Market Research Company globally, and its services range from providing media insights, to consultancy services and audience measurement. This session was specifically on emerging methods of audience measurement, and included an in-depth discussion on the people's meter used at Kantar. Next in line was a visit to LIWA Advertising, Sager Rege( CEO) Vijay Kumar (Creative Director) and Priti Rege helped us gain a pragmatic perspective by divesting hands-on-knowledge on the process of pitching and gaining accounts. From the medium sized agency of LIWA, we then visited Ogilvy, a large scaled international advertising, marketing and public relations agency. Mr. Vaqas Alvi (Head of Activation, Ogilvy Memec) had an interactive session on the changing face of advertising and the move from the "big idea" to the "big ideals" that Ogilvy propagates. The office of Ogilvy itself seemed to embrace the philosophy of ingenuity and inspiration, and appealed on its very basis. Kraft Foods was next up in-line, and Mr Ali Shaikh (Marketing Manager, Snacks and Desserts GCC) and Mr.Salman Taufiq enlightened us with their working at Kraft Foods and how international marketing can be successful. The wrap up of the sessions was with Mr. Fahad Ali (Global Lead, Customer Communications, One HSBC Program). An IBA alumni himself, Mr. Fahad talked about the concept of space shifting and time shifting that marketing today embodies, and how essential it is for everyone to keep up-to-date with technology and its tools.

There was learning even beyond these marked sessions. Dubai itself teaches you much through its history, as it transformed from being a desert to a global city and economic hub within a matter of decades. Even more significant is the fact that while the transformation was a result of the discovery of oil, today Dubai's major revenues are from tourism, real estate and financial services. The skyline of Dubai is a symbol of the constant development taking place there, and even more so are the diverse ventures it enters. The brand of Dubai is indeed, gaining much appeal.

The Dubai Study Tour, Fall 2011- was indeed an experience to remember.