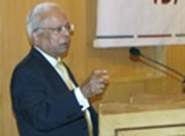 Following much anticipation, the IBA Alumni Islamabad Chapter was officially launched on February 23, 2012. Over 60 IBA graduates, between the 1980 and 2011 batches, joined us on the evening to bring forward this initiative. It was an absolute honour to also have Dr. Ishrat Husain, Dean and Director IBA, amongst us on this grand occasion.

The event started off with some informal networking followed by a short speech by Dr. Ishrat Husain. Dr. Ishrat highlighted IBA's achievements in the last few years and its potential to become one of the world's top ranked business schools. He repeatedly emphasized that IBA should not be seen as a local institution, but rather a national and regional institute that is open and attractive to all. He went on to say that there is a crucial need to target talented students from Baluchistan and the Northern and FATA regions.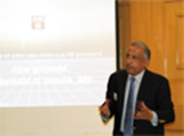 Mr. Zafar Ahmed Siddiqui, Director Alumni, Public Affairs and Resource Mobilization at IBA, later gave a brief presentation on IBA's current and future plans and the changes taking place at the academic institution. Many of the senior graduates who had not visited IBA in years were quite amazed by how much the university had transformed in such a short span of time. Photographs of the newly renovated and modern buildings certainly generated excitement amongst everyone.

Following the addresses and an informal Q&A session, an Executive Committee comprising four members was elected by a show of hands. The new office bearers are: Shahnaz Kapadia Rahat (President), Fawad Khurshid (Vice President), Raza Chinoy (General Secretary) and Abdullah Ikram Kazi (Treasurer). This Committee will now work actively to set up a team of volunteers who will help organize future activities and networking events for IBA Alumni residing in the city.

The event concluded with a dinner giving Alumni the opportunity to meet old friends and interact with fellow graduates. Our impressive Alumni have, no doubt, come a long way and continue to enhance their careers in diverse professional fields. Many are now prominent bankers, executives, businessmen, as well as experts occupying important positions in the education, development and government sectors. By synergizing their collective experiences and engaging with each other more frequently, we are confident that the Alumni will make a valuable contribution to the strengthening of their network. The Chapter has set off to a good start and we hope it has a successful year ahead. All the best to the new Committee members!