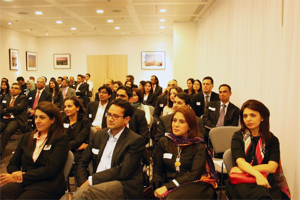 A great deal of progress has been made at IBA and we hope to be able to give the alumni a great deal of information about this at the launch and future events.
With the guidance of the IBA Alumni and Resource Mobilization team we set up a working Executive Committee and announced our plan at the launch event in London on September 20th, 2011 at the KPMG office, 8 Salisbury Square, London.
Dean and Director of IBA, Dr. Ishrat Husain and Director Alumni & Resource Mobilization, Mr. Zafar A. Siddiqui, attended the launch as our guest speakers.
Dr Ishrat Hussain gave an inspiring speech that revived the sense of ownership in all those that were present. The graduates ranged from as early as the batch of 1973 to the latest graduates of year 2011.
Dr Ishrat explained the challenges he faced and successfully overcame in making IBA the top 8th business university in South Asia. Dr Ishrat has been working on a 5 year strategic objective to make IBA better not only academically but also physically in terms of its infrastructure. Dean emphasized the need of bringing in international students to IBA to realize its dream of becoming an internationally recognized university in the world.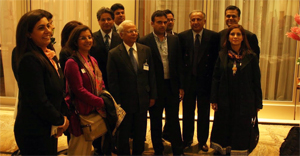 Mr Zafar Siddiqui, Director Alumni and Resource Mobilization gave presentation highlighting the phenomenal development work at IBA. He invited the alumni to visit IBA and tour the new campuses and address the current students to inspire them and guide them in their endeavours.
Those present at the launch included professionals from Banking, Marketing, Consultancy sectors and many with their own businesses operating in the UK. These individuals showed their eagerness in submitting their journey after graduation as a case study for students.
While talking to the alumni the nostalgia was prominent as some remembered the 'photo-copier uncle', the cafeteria food, the basketball court while others remembered their favourite professors and college sweet hearts.
Aslam Aziz, Kishwer Aziz and Anwar Zaidi from the Executive Committee welcomed new members and hoped to have more additions by the end of this year. A lot has been planned by the UK chapter for the year 2011-2012 to help keep the spirit of IBA alive. Internationally these alumni not only promote IBA as a business school but also contribute to a much needed positive image for Pakistan.
Anwar Zaidi, CEO Habib Bank Ltd. U.K.
"The visit by Dr Ishrat and Mr. Zafar to launch the UK chapter of the IBA Alumni gave an upbeat message of some of the goodness very much there in a committed team of Pakistanis.
The nation deserves better and it is my firm belief that IBA will deliver the world class Business School that all the Alumni will be very proud to have been associated with.
Events need to be organised that brings in academia from the best UK universities to showcase IBA through the UK and other Alumni. This would raise awareness, interest as well as create the goodwill so essential to raise IBA ranking".
Kishwer Aziz, IBA Alumni UK Executive Committee member
"We would like to build a community of like minded professionals who can become ambassadors for this reputable Educational Institution in the UK. In addition, I think we can play an important role in helping our alumni integrate into British Society so we can also fulfill our role as responsible citizens in our host country. We hope to do all this while having fun."