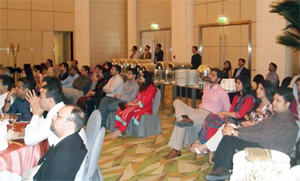 On 9th July, 2010 the IBA hosted the first official reunion and the launch of the IBA Alumni UAE Chapter in Dubai. The event started off with a documentary and presentation about IBA's current and future plans, followed by a presentation by Mr. Zafar Siddiqui, Director Alumni, on the changes happening at IBA. After that, Dr. Ishrat Hussain, Dean & Director IBA, gave a speech on his vision to take IBA to one of the top ranking business schools of the world.

Following the addresses the elections for the office bearers of the UAE chapter were held between 12 volunteers who offered their services for the Chapter. A show of hands, by all those present, selected 4 of the 10 volunteers as office bearers. The new office bearers are Mr. Akbar Ali Shah (President), Mr. Danish Kazi (Vice- President), Mr. Adil Mushtaq (Secretary) and Mr. Asad Bukhari (Treasurer).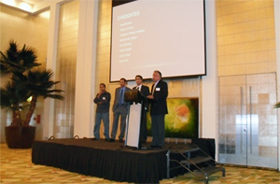 The election was followed by dinner after which the ceremony concluded with the announcement of the next Chapter gathering to be held in September. This event marks the beginning of a new era. As new chapters get launched in Major Alumni Hubs across the world, the UAE chapter will forever be remembered as the First International Chapter of the IBA Alumni.

A staggering 173 alumni from all over the UAE were present at this grand occasion. The event saw the return of prominent bankers, executives and businessmen to their alma mater from all over the UAE Alumni, enthusiastic to once again be a part of the IBA family in whatever way they can. It proved to be a great networking opportunity as Alumni from various walks of life came together and shared their experiences at IBA and beyond.