IBA students explore Istanbul on study tour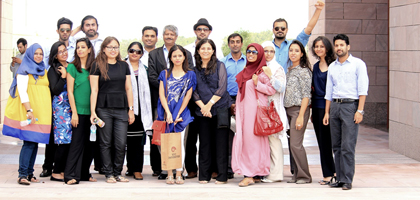 A group of 17 IBA students travelled to Istanbul, Turkey, as part of their studies – a place they called 'halfway between home and the West'. On June 17, 2013 they began their week-long trip, during which they visited religious, cultural and historical sites, markets, the Koc University and had meetings with owners of various franchises.
Dr. Amber Gul and Mr. Jami Moiz organized the trip because, as they said, "Turkey provides a happy blend of the East and the West" and would therefore provide an eye-opening learning experience in terms of business, culture, media studies and even international relations. The trip provided opportunities to see practically what students said they had so far only learned in textbooks. Dr. Gul added that "the tour was a well-rounded mix of academia and entertainment. It also provided them avenues to compare and contrast the customs and practices of the Turkish to the native."
A visit to Taksim Square during the protests, for example, provided students with insights into media practices and news values. Trips to the local markets taught them that the Turkish could be 'highly sales oriented.' One student pointed out that seeing the level of national pride in the Turkish and their preservation of historic and cultural sites could "definitely be something we can learn from and develop as business students when considering 'Brand Pakistan'."
The trip also included a corporate visit to Yum! Brands, Inc. or Yum! – a United States-based Fortune 500 corporation. Since it operates, or licenses, Taco Bell, KFC, Pizza Hut, and WingStreet restaurants worldwide, students said that they could relate their textbook theories to the real world, including: 'the Equity Model vs. Franchise model', 'Communication and Culture', 'Brand Propositioning', 'Media Planning' and 'Consumer Insights'. Later, the group paid a visit to Reckitt Benckiser, where they observed the brand's business operations in Turkey and compared their findings with those of Reckitt Benckiser in Pakistan.
"Overall, because Turkey is such a mixture of Eastern and Western values, it was good that they got to see both", explained Mr. Moiz. Dr. Gul said she hopes that "study tours become a tradition at IBA, as taking students on international visits exposes them to diverse cultures and learning experiences."