IBA Alumnus youngest professional to participate in the FUTURE ENERGY LEADERS' PROGRAMME (FELP)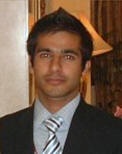 Mir Yahya Ismail Memon, BBA graduate of 2009 and ex-student of the IBA National Talent Hunt Program Batch of 2007, has been selected by the World Energy Council (WEC) to participate in the upcoming FUTURE ENERGY LEADERS' PROGRAMME (FELP) to be held in Daegu, Korea (Rep. of) from October 13-17, 2013. He has also cleared the highly sophisticated Energy Risk Professional Exam conducted by GARP (Global Association of Risk Professionals, USA) in 2012.

The Future Energy Leaders' Programme (FELP) is designed to identify, encourage and inspire the next generation of energy leaders, facilitating dialogue and discussion on critical developments in the energy sector. This year, they have welcomed one hundred exceptional young professionals from over forty different countries across the globe and are delighted to invite them to be a part of this dynamic and vibrant community.

The World Energy Council (WEC) is the principal impartial network of leaders and practitioners promoting an affordable, stable and environmentally sensitive energy system for the greatest benefit of all.

Formed in 1923, WEC is the UN-accredited global energy body, representing the entire energy spectrum, with more than 3000 member organizations located in over 90 countries and drawn from governments, private and state corporations, academia, NGOs and energy-related stakeholders.

We wish Mir Yahya best of luck for the event and hope to see him prosper in his professional life.