IBA Launches Online Payment For Students, Alumni And Donors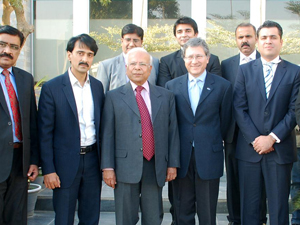 The Office of the Alumni Affairs and Resource Mobilization is proud to announce the launch of online payment services for Students, Alumni and Donors. Through this service, people from Pakistan & abroad will be able to pay their fees, dues and donation to IBA through a credit card (Visa/Master Card) or a debit card by logging on to: (Pay Online)

Alternatively, you access the links:
https://onlinepayment.iba.edu.pk/(for students) and https://onlinepayment.iba.edu.pk/iba_donation/ (for IBA Alumni and donors) as per your convenience and requirement.

This service is part of UBLís cutting edge UBL Go-Green Internet Merchant Acquiring Platform which was launched recently. It is also the first 3D Secure Internet based payment mechanism to be introduced in Pakistan. Currently, no other bank in Pakistan is providing this service. IBA and Alumni websites are SSL secured so you can be rest assured of the data confidentiality.

The launch of the collaboration between UBL and IBA took place at IBAís Main Campus at Karachi University on Monday, January 27, 2014. Mr. Ali Hasnain, Head of Retail Bank, UBL and Dr. Ishrat Husain, Dean & Director IBA, as well as several senior executives from both organizations were present at the event.

We hope that this effort will help you better connect with IBA and let us serve you in an efficient manner.