Family Gala / Sunday Brunch organized by IBA Alumni Islamabad Chapter
By: Ayesha Humayun - student of 4th Semester at S3H, NUST and daughter of IBA Alumnus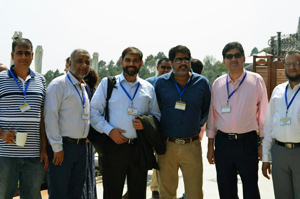 ISLAMABAD [14/05] – "It is a tremendous initiative on behalf of IBA Alumni Islamabad chapter; never expected that much enthusiasm and participation of IBA's Alumni in Islamabad. We should have more of such events where families come together and network with each other" said Dr. Zaheeruddin Asif, Program Director Alumni Affairs and a faculty member of IBA who specially flew from Karachi to attend the Family Gala cum Sunday brunch organized by IBA Alumni Islamabad Chapter on Sunday, 10th May to commemorate IBA's 60th Anniversary. Mr. Haris Siddiqui, Manager Alumni Affairs and Prof. Jami Moiz also accompanied Dr. Asif from IBA Karachi.

The core committee of IBA Alumni Islamabad chapter consists of Mr.Raza Chinoy, President; Mr. Naseeruddin Humayun, Vice President; Mr. Shabbir Halai, the General Secretary and Mr. Abdullah Ikram Qazi, the Treasurer. Organized by the committee, the brunch served as a chance for the Islamabad alumni to celebrate IBA's achievements, network with each other and discuss the chapter's involvement in their alma mater.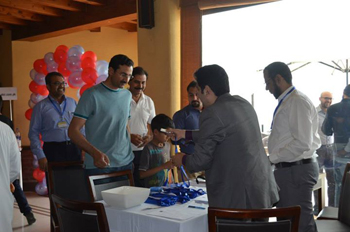 The core committee of IBA Alumni Islamabad chapter made remarkable efforts in collating the data of Alumni in and around Islamabad, was able to obtain confirmation of participation from around 75 Alumni. The event was organized through a sponsorship of worth Rs. 200,000/- and was free of cost to Alumni and their families.

The event started off with the meet 'n greet session which was conducted by Mr. Farooq Vayani and Mr. Zubair Shah, masters of ceremony and member of IBA Alumni Islamabad Chapter, in which Alumni spoke about this initiative and briefly shared their experiences of life at IBA. Special arrangements were made for the children who were entertained by activities like a magic show, puppet show and face painting while the grownups discussed chapter objectives and efforts. An important discussion was held on streamlining the chapter donations for the scholarships of two IBA students throughout their undergraduate studies, amounting to Rs. 5.7 million. The chapter members also deliberated upon how to gather a larger volunteer force for the various planned committees and how can they better communicate with and assist the alumni residing in Islamabad. It was proposed that there was a need for increased contact between alumni and their peers, especially with the senior alumni.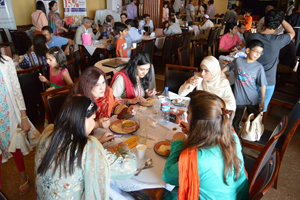 Dr. Asif gave a presentation about the efforts being put in to bring IBA to international standards. He further added that we are trying to promote IBA as a brand, and behind this brand, we are trying to promote quality education in Pakistan. IBA's target is to be amongst the top 100 in the world and top 20 in the south Asian region which also involves the renovations and additions being made in the infrastructure of the university. A huge round of applause was received from the audience as images of the boys' hostel appeared on screen. The newly built, state-of-the-art facility was an unfathomable reality for the attendees and brought about the nostalgia about their time spent at the IBA Hostel.

According to Mr.Raza Chinoy, president of IBA Alumni Islamabad Chapter, "Objectives of this alumni chapter is to help in recruiting talented students for admission in IBA from Islamabad and adjoining cities, to build ownership for IBA and its future development amongst the Alumni, to find corporate sponsors who have benefitted from the talent nurtured at IBA, to spread the IBA Story of Development into a world class business education institute and to provide a mentoring and networking forum to alumni in and around Islamabad."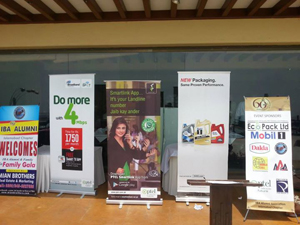 Talking about how the chapter can assist the IBA alumni, Mr.Chinoy added that the chapter will assist students/graduates in getting jobs and internship in the region, Assist the new comers to the region in relocation and settlement process, counsel mentor and coach the younger alumni, provide a pool of IBA graduates willing to work in Islamabad for the corporates and provide guidance to IBA graduates who wish to go for a PhD and pursue a career in academics at IBA.

Towards the end most of the Alumni made pledges to support their Alma Mater to help financially constrained talented students. The discussions of the day concluded with the formation of 4 sub committees to handle various chapter activities: Social, Fund Raising, Networking for Jobs and Mentoring. Present alumni volunteered for different committees and it was decided to approach the remaining members for input as well. Furthermore pledges for the chapter were also received at the gathering with the collected amount to be disclosed soon.

The attending members at the Monal brunch left satisfied after enjoying a wholesome family outing and deciding on the future plans for mobilization of Alumni in the area.