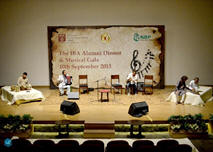 The much-anticipated Alumni Musical Gala hosted by Mr. Shahid Shafiq, Alumni Representative on the IBA Board of Governors took place on Thursday, September 10, 2015. Over 300 alumni, friends and family attended the event, which included networking session for the Alumni, a scrumptious dinner, followed by a night of music and merriment.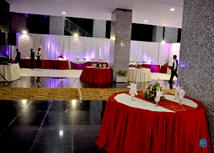 The key performer of the evening was Mr. Salman Alvi, IBA Alumnus and a renowned ghazal singer who mesmerized the audience for hours with his soulful voice. His unrelenting support demands special mention where he helped organize Audition before the event. To make this a participatory function, Alumni were invited to audition for a select few singing slots and display their musical talent. Unfortunately, despite the abundance of talent, only a few were required to go the stage on the eve of the Musical Gala.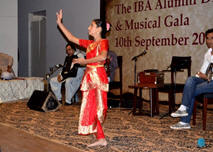 Mr. Muneer Kamal, IBA Alumnus 1977 and Chairman BOD, National Bank of Pakistan, singing for the first time at IBA since July 23, 1979 never missed a tune and enthralled the audience with his well-rounded, deep voice. Ms. Muneeza Asif (IBA Alumna 1991) and Major Nadeem (IBA Alumnus 2012) also performed exceptionally well onstage. The daughter of IBA Alumni Najeeb and Saba Agrawalla stole the show with her excellent dancing skills, as she performed the "Odissi," a traditional Indian dance.

Apart from the music, dancing and dinner, the alumni also took great pleasure in exploring the City Campus with its transformed architecture. The night was loaded with laughter and conversation as our guests reunited with old college friends.