Exclusive Movie Screening of 'PK'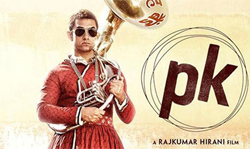 Aamir Khan's latest release, "PK" was screened exclusively for the IBA alumni, faculty and students at Nueplex Cinema, Karachi on Sunday, December 28, 2014 on a subsidized rate. This event was organized as part of alumni engagement activity.

As always, we received highly encouraging response from IBA alumni, faculty and students. Special screenings of popular movies have now become a regular social engagement activity to bond the IBA family.

Tickets for this event were sold out within a few hours. Alumni and their friends and families thoroughly enjoyed the movie and appreciated the efforts put in to involve the alumni through highly entertaining events.

Testimonials:
This is a very good effort to engage with the Alumni.
-Bilal Yousuf, Alumnus 2010

I'd like to appreciate such efforts from the Alumni Department in order to form stronger bonds across family and friends.
-Ahmed Azam Khan, Alumnus 2013

I congratulate you on arranging the movie show. It was a good effort, and I applaud the intent of bringing the alumni closer to each other through social events.
-Nooruddin Hyderabadwalla, Alumnus 2007