August 14 - Independence Day Celebrations at IBA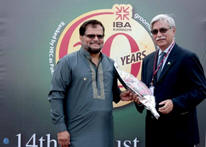 The IBA Main campus gleamed green, draped with small flags, streamers and decorations at the Independence Day. A huge crowd of 200 students, alumni and staff members including their families showed up early in the morning despite a holiday to commemorate the birth of their nation. The ceremony commenced with the traditional flag-hoisting ceremony followed by national anthem, and many popular national songs.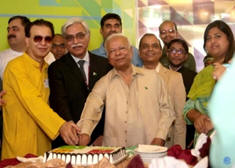 Dean and Director IBA Karachi, Dr. Ishrat expressed his pleasure upon seeing such a huge congregation of alumni gathered for the event. He went on to comment on how being conferred the Nishan-e-Imtiaz was not a solo activity; rather it was the combined efforts of all, from the gardener to the Registrar that made it possible. Mr. Shahid Shafiq, Alumni Representative on the IBA Board of Governors spoke on the occasion. Mr. Shafiq appreciated Dr. Ishrat's efforts in upholding and enhancing the high standards of education at IBA. He also congratulated Dr. Ishrat on being awarded the Nishan-e-Imtiaz (https://alumni.iba.edu.pk/DrIshrat_Conferred_Nishan_E_Imtiaz.html).


An Independence Day cake was cut by Dr. Ishrat to commemorate the occasion. A token of remembrance was also presented to Dr. Ishrat in the form of a sketch. An indulgent breakfast of halwa-puri, sponsored by IBA Alumnus Mr. Zaki Ahmed Sharif, followed the merriment and the speeches. Later in the day, a friendly cricket match was played between the students and staff members of IBA; needless to say, the well-practiced students' team won.