IBA Alumnus, Arif Elahi, appointed as Chairman/CEO of Pakistan National Shipping Corporation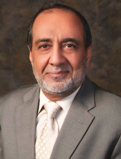 We would like to offer our congratulations to Mr Arif Elahi, IBA alumnus of 1982, on his recent appointment as the Chairman/CEO of Pakistan National Shipping Corporation (PNSC).

An experienced Civil Servant, Mr. Elahi did his graduation from DJ Science College and MBA from IBA with Majors in Marketing & Finance. Initially working with his family business, Mr. Arif joined the civil services in 1984 in the DMG group, now known as PAS. In his illustrious career he has worked as Assistant Commissioner Mirpur Mathelo, Eidgah (Karachi) And Saddar (Karachi) and Deputy Commissioner Karachi – South – Sindh And Quetta – Baluchistan. Among his other assignments with the Government of Sindh he has also served as Secretary Investment and Secretary Labor – Chairman Sindh Workers Welfare Board and Secretary Tourism.

Mr. Elahi assumed the charge of PNSC from March 12, 2015, moving on from his previous position as the chairman of Export Processing Zones Authority (EPZA). Mr. Elahi has always been an active member of the IBA Alumni community; participating in various events and contributing to institute in his professional and personal capacity. We wish him all the best in his professional endeavor.