IBA Alumni (UAE Chapter) Annual Dinner 2014
The IBA Alumni, UAE Chapter, held their Annual Dinner on 12th December 2014 at JW Marriot Marquis Dubai.

The event was attended by over 130 Alumni and numerous dignitaries. The event was graced by H.E. Asif Durrani, Pakistani Ambassador for UAE, H.E. Javed Jalil Khattak, Consulate-General of Pakistan and the IBA Dean and Director Dr. Ishrat Hussain.

The event provided a great opportunity for the Alumni to network with each other and to catch up with old classmates.

The proceedings of the event began with a welcome address by Uzzam Malik, Vice President of the IBA Alumni UAE Chapter, who provided details on the formation of a formal Alumni body and the purpose of its creation. He explained that it was an opportunity for more alumni to come forward to organize various events and support the alumni body.

It was followed by a keynote speech by Mr. Tabish Gauhar, Chairman KE, Partner and Country Head of The Abraaj Group for Pakistan, who spoke about the turn around and success story of K-Electric.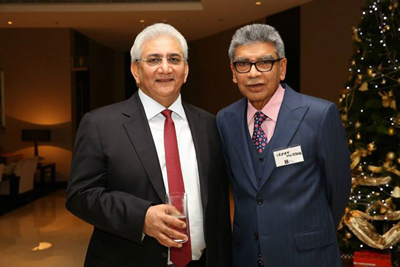 Dr. Ishrat Hussain spoke to the Alumni regarding the numerous projects being undertaken at IBA and the progress that has been made over the years.

Syed Arfeen Alam, President of the IBA Alumni UAE Chapter concluded the proceedings with a thank you note, with special acknowledgements being given to Mr. Waqar Siddiqui and Mr. Irfan Mustafa, both senior IBA Alumni who have been pivotal with their support for the Alumni body.

Following a sumptuous dinner, a lucky draw was conducted to give away 2 Samsung Galaxy Note 4 handsets, 1 LG LCD TV and 2 copies of Hottie's Handbook (How to lose 10kgs in 10 weeks) to the alumni attending the event. The event ended on a melodious note with Ghazal singing by Salman Alvi.

=============
For further information on the alumni activities in UAE, write to UAEibaAlumni@gmail.com or contact the alumni body members:
Arfeen Alam, President: ArfeenAlam@hotmail.com
Tabassum Valley, General Secretary: tamasum@yahoo.com
Rehan Ali, Treasurer: Rehanali1979@yahoo.com
Uzzam Malik, Vice President: Uzzam@hotmail.com