Newly Elected Office Bearers take oath at Alumni Students' Centre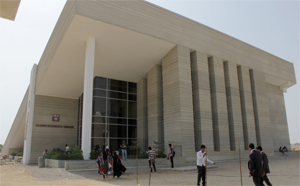 Saim Mumtaz, BBA-5
"Leaders for tomorrow" is not just a catchy catchphrase or an attractive tag-line for IBA, but also a motto that is fully reflected in all aspects of nurturing its student at this university.

Every year, ambitious students contest to get elected for the 28 distinct societies spearheaded by a Student Council. Through a democratic process involving vigor, strategic planning, coordination and determination, triumphant students earn a chance to represent IBA as office bearers. They hold office in their respective capacities for a year and work to conduct their proposed events in available resources. This opportunity allows them to grasp the hindsight of the professional careers to follow and helps them get acquainted to the practical fieldwork.

This year, an oath taking ceremony was held on September 17, 2013 at the Alumni Studentsí Centre to officially announce the commencement of business for the societies and its office bearers.

The ceremony also marked the informal inauguration of the much awaited Centre which took Rs. 200 million to complete. Alumni Studentsí Centre houses the facilities like Amphitheatre for 500 seating capacity, Cafeteria, Dining Hall for 90 persons, Kitchen, Common Area / Lounge, Offices, Indoor Play Area, Badminton Court, Gymnasium, Service Area, Computer Lab, UPS / Printing Room, MEP Room, Green Room.

The colorful ceremony kicked off with Registrar, Captain (Retd.) Ahmed Zaheer administered the oath to the young office bearers and expressed his willingness to aid students completely whenever required. Dr Ishrat Hussain, Dean and Director of IBA, was also present at the occasion. In his speech he was able to inspire students to take on the charge with certitude, fervor and passion. He expressed his desire to see different societies collaborating to come up with big, unique and ingenious events.

Over the refreshments, the patrons of respective societies greeted the new office bearers and listened keenly to what the office bearers plan to propose for the year. They freely shared their opinions and motivated the students to team-up effectively. Nasir Altaf, the Vice President of IBA Student Council vowed to give prime importance to all student related matters and expressed his desire to do justice to his position. He was seconded by his team of ISC who all looked sharp and ready to serve.