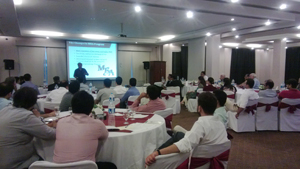 In order to rejuvenate and revive the Alumni Chapter in Lahore, lying dormant since its inception in 2009, the IBA Alumni Department organized a get-together on Saturday June 22, 2013 at Royal Palm Golf & Country Club, Lahore which attracted almost 50 alums from 60ís to date.

The event kicked off with a one-hour networking session and the blend of senior and young alums provided an opportunity for all to interact with each other and reminisce their good old times at IBA. This was followed up by a presentation from Director Alumni Affairs, Mr. Zafar A. Siddiqui which gave an overview of the transformation taken place at IBA. Mr. Siddiqui discussed the future plans of the alma-mater and what role alumni can play in its betterment.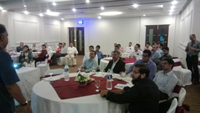 Most of the attendees who had not visited IBA in recent times wished they could become part of the new IBA which has changed leaps and bounds both in infrastructure and academics. The presentation was preceded by question and answer session where alumni enquired on various aspects pertaining to IBA and ways of giving back to their second home.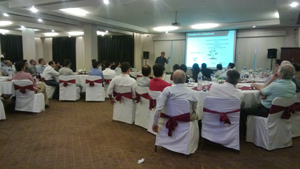 Subsequently, the attendees were requested to volunteer for the reinvigoration of the Chapter. A steering committee comprising of 6 volunteers was made with Ms. Ambreen Zafar, Alumnus of 1987, as its head. Upon deliberation, it was decided that this committee will conduct follow up meetings with Chapter members, structure the chapter, schedule activities and mobilize the chapter. Within 6 months, the committee would conduct elections, elect the office bearers and formalize the functioning of Chapter.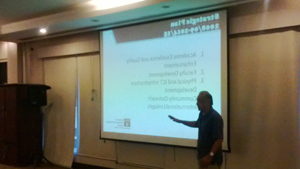 As a follow up to the alumni gathering, a meeting of the steering committee took place at Lahore Gymkhana on Saturday June 29, 2013 and an action plan was put in place to set the ball rolling. An official email ID of Lahore Chapter has been created.

Alumni who reside in and around Lahore are requested to join the Chapter by providing their details via email to alumni.lahore@iba.edu.pk. An official facebook group of the Chapter has also been made to open an informal channel of communication for alums in the area. Do join the Chapter to get the latest from the Chapter

https://www.facebook.com/groups/467442560016084/

We hope that this effort will go a long way in keeping the Alumni in and around Lahore connected with each other and their alma mater.