IBA Annual Alumni Reunion Dinner 2013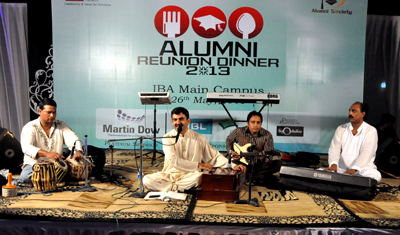 As has been the tradition, IBA Alumni Society in collaboration with IBA Alumni Department hosted the home coming of Alumni at the Reunion Dinner. The event was held at IBA Main Campus on Sunday May 26, 2013. Invitations were sent to the batches of 1964, 1965, 1974, 1975, 1984, 1985, 1994, 1995, 2004, 2005 and 2012.

Around 250 Alumni including CEOs and functional heads of renowned organizations like Martin Dow, Lucky Cement, HBL, and Nestle etc. graced the occasion. The event started off with a welcome speech by Shahzaib Khan, Manager of IBA Alumni Society, followed by a brief presentation by the lead sponsor and platinum partner of the event, Martin Dow. Following this, the patron of the society, Mirza Sardar Hussain, also shared his views regarding the significance of the event and how the IBA Alumni have always been a symbol of pride for the institution. The Dean and Director of IBA, Dr. Ishrat Husain lauded the efforts of Alumni towards the curricular and co-curricular activities at IBA. He emphasized on the pivotal role the alumni can play in helping the institution progress further. Later we saw the manifestation of this call when Chairman Martin Dow Mr. Jawed Akhai, IBA Alumnus 1985 pledged 2 units of Alumni Student Center worth Rs. 10 million.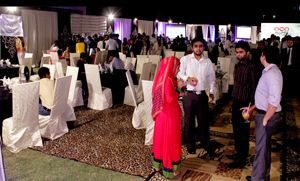 Later an entertaining activity was conducted by the Director of Alumni, Mr. Zafar A. Siddiqui, where the alumni were given an opportunity to share their experiences regarding the memorable times spent at IBA. Dinner vouchers of Avari Towers and Beach Luxury were distributed as a token of appreciation to those who participated enthusiastically in the activity. A signature wall was also setup to capture the recollections and reminiscences of Alumni.

After a sumptuous dinner, the evening culminated on a melodious note with musical performances from ghazal maestro Faisal Latif and latest singing sensation by Aamir Ali.