Launch Ceremony of IBA's 60th anniversary Celebrations

A night to remember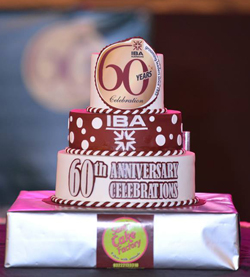 Karachi, March 21: A launch ceremony for IBA's 60th anniversary celebrations was initiated with an exclusive dinner followed by a mesmerizing musical performance by the maestro Rahat Fateh Ali Khan. The beautiful evening took place at the IBA Main Campus.

Set in the midst of the beautiful revamped campus, against the backdrop of the magnificently lit up Alumni Student's Centre, the magical event took place on the sprawling lawns of IBA.

The successful event was organized by the IBA Alumni Society in collaboration with the Alumni Department; 60 dedicated volunteers worked day and night for three months to make this event a reality. Almost 700 people attended the event, participants included the corporate sector, alumni, faculty and parents. This has been the biggest fund raiser in the history of IBA and approximately Rs. 15 million of proceedings were accumulated, which will go to the IBA Endowment Fund.

The Gold Sponsor for the event was National Bank of Pakistan (NBP) with a generous contribution of Rs. 2.5 million, while significant contributors included Martin Dow and Adamjee Foundation both donating Rs. 1 million each.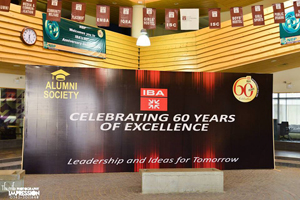 The event was hosted by renowned TV actors and hosts Mr. Farooq Hasan (IBA Alumnus 1994) and Ms. Ayesha Sana. Significant guests included Mr. Pradeep Singh, Deputy Dean and CEO, Indian School of Business accompanied by wife Mrs. Sumit Singh.

Addressing the audience, Mr. Ishrat Husain thanked everyone for contributing towards the endowment fund through this event and assured them that all the proceedings will go towards the fund to maintain resources and they will also be utilized to support the expenses of deserving students.

After a delectable dinner, the audience enjoyed one soulful rendition after another by the legendary singer Mr. Rahat Fateh Ali Khan. He had the whole audience swaying to all time classics such as, 'Dam mast qalandar Ali Ali' and 'Tumhey dillagi bhul jani parheygi', as well as many newer hit songs of his.

The next event in line for IBA's 60 year celebrations is the Students Week, scheduled from May 1-4, 2015, followed by an exclusive exhibition showcasing Sadequain's works in October. And in December, a book comprising on IBA's history will also be launched.

To mark IBA's 60th anniversary, a cake cutting ceremony also took place by Dr. Ishrat and plaques were also distributed to the gold sponsor National Bank of Pakistan (NBP) and to Mr. Pradeep Singh by Dr. Ishrat Husain.