IBA Career Fair 2016 Sets New Records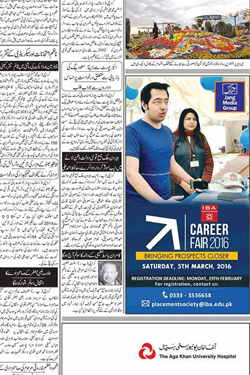 The Institute of Business Administration Karachi held its annual career fair on Saturday, March 5, 2016 at the Main Campus with a record participation of 68 renowned local and international companies. Organized by the IBA Placement Society, Career Fair 2016 stood out from previously held career fairs by not only inviting the highest number of companies but also managed to conduct recruitment drives of 8 well-established companies for Junior and Senior Year students with almost 100 scheduled interviews throughout the day.

What made this event worthwhile was the participation of companies like Education Fund for Sindh (EFS) and The Hub Power Company as the Platinum Sponsors; Abbott Laborataries (Pakistan) Ltd. , EFU Life Assurance, Gaditek and Feroze 1888 Mills Limited as Gold Sponsor.

Other than following the traditional norms of a cliché job fair practiced everywhere, the IBA Career Fair 2016 also established a semi-formal venture termed "Alumni Station". This particular project focused on inviting former IBA graduates working in various industries to mentor and guide present IBA students; career counseling is perhaps one of the most under-sold ideas to the youth, and It was high time that this was introduced.

More than 30 highly esteemed former IBA graduates, and almost 70 students attended these sessions. Some alumni that became a part of this venture included – Mr. Raihan Ali Merchant - CEO Starcom, Mr. Ahmed Hassan Saadi - Head of Imports and Exports at GSK, Mr. Zeeshan Bhaiyani - Head of Business Planning at Mobilink, Ms Umaima Shoaib - Chief Marketing and Strategy Officer at Tameer , Ms Ayesha Menai - Head of HRM at First Woman Bank Ltd and many others.

Counselling session were divided into business functions namely, Sales, Marketing, Finance, Supply Chain Management, Human Resource Management, and Business Data Strategy. Each counseling session was scheduled for forty five minutes with three alumni/alumnae and five students. Two sessions were held in the morning, whereas two in the afternoon. After each session, refreshments were served, and a volunteer was assigned to the alumni/alumnae for a campus tour.

Kudos to the team of Shahroze Nasir and Usama Iftikhar for setting a high benchmark for all upcoming career fairs at IBA, initiating constructive thoughts, and methodically arranged platforms for students to make the most of their academic, and utilize their potential to the utmost in their professional lives.

| | |
| --- | --- |
| HIGHLIGHTS OF IBA CAREER FAIR | |
| No. of companies | 68 |
| No. of Stalls | 72 |
| No. of Recruitment Drives | 8 |
| No. of Students Interviewed | 87 |
| No. of Alumni for Counselling sessions | 31 |
| No. of Students benefited from counselling | 67 |