Dinner in Honor of Newly Appointed CEOs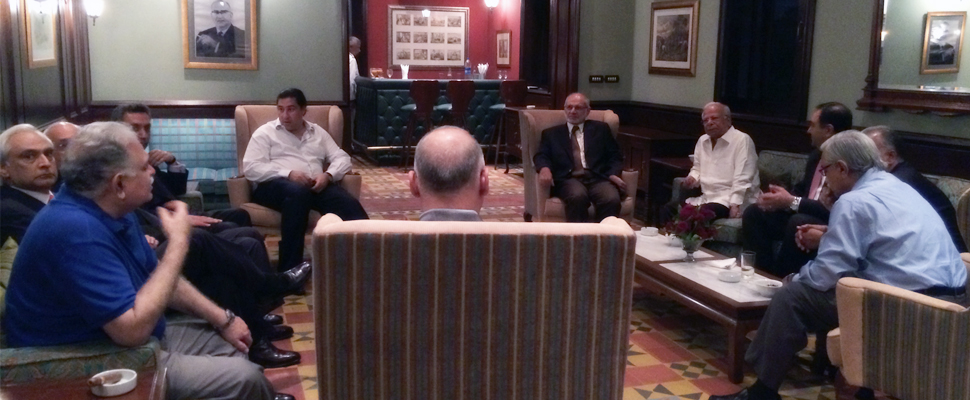 IBA Karachi holds the distinction of being the only institution to have produced more Chief Executives than any another university in Pakistan. To celebrate and honor the achievements of its Alumni, it has become a regular feature at IBA Karachi to host dinner for newly appointed Chief Executives.

On Tuesday, September 23, 2014, Dean and Director IBA Karachi Dr. Ishrat Husain played host to three recently appointed Alumni CEOs. Mr. Wajahat Hussain (Alumnus 1983), President & CEO, United Bank Ltd., Mr. Imran Maqbool (Alumnus 1981), President, MCB Bank and Mr. Naqi Sheriff (Alumnus 1990), General Manager, Reckitt Benckiser.

The evening was illuminated by the presence of distinguished Alumni and dignitaries. Mr. Ashraf Mahmood Wathra, Governor State Bank of Pakistan, Mr. Shahid Malik, former Higher Commissioner to India and Mr. Ghouse Akbar, Director Akbar Group of Companies graced the occasion. Mr. Wajid Jawad (Alumnus 1972), former Federal Minister, Mr. Shahid Shafiq (Alumnus 1975), Member IBA Board of Governors, Mr. Tariq Kirmani (Alumnus 1967), former MD PIA, Mr. Husain Lawai (Alumnus 1967), President Summit Bank, Mr. Zafar Siddiqui (Alumnus 1978), Program Director Alumni Affairs IBA Karachi were also present.

Dr. Ishrat Husain raised a toast to the guests of honor and felicitated them on their recent appointments. Dr. Husain emphasized that the only permanent stakeholders of an academic institution are its Alumni and urged the venerated Alumni to come forward and help IBA in achieving its vision of entering into Top 100 Business schools.

Alumni present at the occasion pledged their all-out support to their alma mater in helping IBA not only in recruitment and internships of students but also through generous donations from their companies and social circle.

During the networking session, alumni from different eras reminisced their times at IBA and shared fond memories of their student days. Dr. Ishrat also invited the Alumni CEOs for a campus tour since most of them have not visited IBA after completing their studies.

All in all, it was a memorable night of much-needed celebration of accomplishments of our distinguished alumni. After a trip down memory lane, the guests bid farewell with the hope of seeing IBA achieve its goals soon.