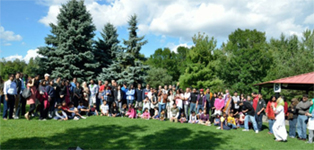 On Sunday, September 9, 2012, the IBA Alumni Chapter in Canada held its second annual family picnic, this time at the picturesque Milliken Park located in Scarborough, Toronto.

The event was designed to be a social gathering of the families of IBA alumni residing in Canada, and successfully achieved a large turnout. Over 150 people came together and enjoyed themselves in the sunshine - it was perfect weather to enjoy a picnic as the summer slipped into the fall.

The picnic was organized by the Social Pillar, which was led by Muhammad Ali Dairywala ('86), Sabeen Khalid ('96) and their team. They had arranged for a number of activities along-side refreshments and a delicious lunch, which greatly added to the atmosphere. Kids of all ages were playing cricket and football, and many were engaged in painting and color-ing - although some chose to paint on each other's faces instead of paper! An informal cricket tournament was also held (the largest alumni sports tournament in Canada), which was a lot of fun and had a real competitive spirit.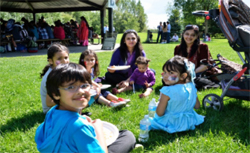 IBA alumni, some of whom had travelled from New York and New Jersey, spent the afternoon catching up and reminiscing about their times at IBA. There was a wide range of batches represented, from the class of '78 to the class of 2010 … with notable representation from the classes of '86, '96 and '93.

In addition to the fun and games, the picnic provided a perfect forum to re-engage the alumni and inform them of the upcoming elections for the Canada Chapter. Current directors, Nasir Khan ('85), Saquib Vali and Sabir Sami ('86) outlined the Chapters progress thus far and its vision for the future. Qasim Rabbani also shared his valuable input and Haroon Malik ('95), leading the election panel, briefed the alumni about the next steps in the election process and urged everyone to take part.

The event ended with a picture taking session, where it proved quite difficult to fit in the IBA alumni family in Canada! Departing on a good note, the President congratulated the Social Pillar on a job well done and thanked the attendees with a warm message: "Kudos to the Social pillar and each and every one of you."