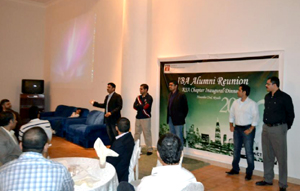 The launch of the IBA Alumni KSA Chapter was held on November 22, 2012 in Warood Compound, Riyadh. A colorful gathering of about 100 alumni and their family members graced the occasion. Graduates from as far back as 1991 to date came together as IBA fraternity.

The event started with members of the Core Committee (CC) explaining the idea behind the setup of a local alumni chapter as well as soliciting opinions and suggestions on how to take this initiative forward.

"IBA has provided us a common platform to come together. Our goal is now to get across to more alumni residing in KSA and make this a worthwhile forum for all of us", said CC member Muhammad Faisal Potrik while discussing upcoming events for the Chapter.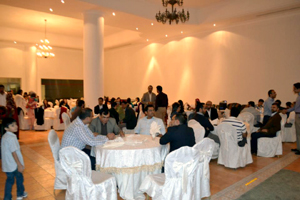 "It is great to see so many IBA graduates admirably representing the Alma mater across a range of sectors in Riyadh KSA. Thank you all for getting together at short notice and for making the inaugural alumni event a huge success" said CC member Shariq Rehman.

A power point presentation highlighting the various fund raising programs at IBA was also shown. A recorded message of Dean and Director IBA, Dr. Ishrat Husain was delivered which inspired the alumni to mobilize for the betterment of their alma-mater.The launch ceremony was followed by a sumptuous dinner where alumni reminisced their times at IBA and shared their stories.

After the event, the KSA Chapter structure was established with Mohammad Faisal Potrik as President and Adnan Ahmed Khan as General Secretary. An 8-member Executive Committee (EC) was also set up comprising of Adnan Miraj, Shariq Rehman, Zaheer Khalid, Muhammad Jafar Khan, Adeel Ali Esbhani , Muhammad Faisal Potrik, Adnan Ahmed Khan, and Soheeb Aali Raza.

The office bearers will function for a period of one year. The EC reserves the right to appoint more office bearers as the need arises. The EC will convene in due course to decide on future events and also to build up the database of IBA graduates in the Kingdom as many graduates remain to be tapped.

The idea behind forming the KSA Chapter was floated in 2010 but the launch drive was kick started in August 2012 which culminated in connecting KSA Alumni to IBA platform. Benefiting from a sizeable number of graduates working in myriad top organizations, this platform will provide a meeting point for graduates to connect and network in a foreign land and help out IBA in achieving its strategic vision.