IBA Conversations 1.0: Digital Transformation by Furqan Qureshi

By: Owais Hassan Shaikh, Alumnus 2004

IBA Conversations is an initiative that aims to engage IBA Alumni in constructive discussions relating to various contemporary business topics. The objective is to bring the alumni together for various academic and real-world conversations, thereby enhancing the value, as well as cohesion, of the alumni network.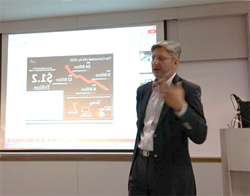 On May 12, Furqan Qureshi, Alumnus 1981, spoke on the topic of 'Digital Transformation' at the inaugural session of IBA Conversations. According to Furqan, we live in times in which the world is increasingly complex as the information flow continues to grow at exponential rates. It is this phenomenon that has brought about strongest impact on our lives, much greater than social media. In this environment, smart organizations have realized that adaptability is the lifeline and the entire corporate structure needs a rethinking along with customer relationships, business models, competition, products and services they offer to their consumers. This change is, more often than not, led by Digital Transformation.

Furqan emphasized that whilst technology is spearheading this transformation, in reality technology by itself does not offer the solution for digital transformation. Hence appropriate changes in the non-technology functions and processes of an organization, will make this reality.

Video recording of the talk is available at:
https://www.youtube.com/channel/UCfkiSy7xcToAzKFTCKslcLw

Speaker's Profile:
Furqan Qureshi, a 1981 graduate, possesses rich and diversified experience 'C' level experience much of which is with CEOs working at national and multi-national companies. For his penchant of 'invest in people to get results', he has been conducting trainings for the past 25 years. A perennial learner, Qureshi brings the practice of the corporate world into his training in disciplines of soft skills, communication skills, sales, marketing, business process management, customer service excellence, business strategy and leadership skills.