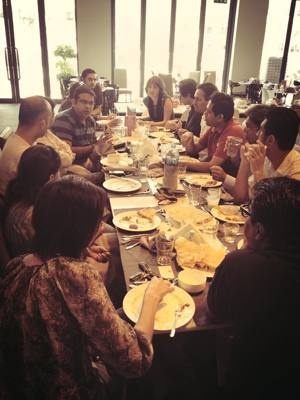 A breakfast meeting of the IBA Alumni UAE Chapter (PIC) was recently held on 23rd Augustí2013 at BBQ Delight (JBR), Dubai. Chaired by Mr. Danish Kazi, Interim President PIC, the main agenda of the meeting was to identify nominees for the roles of office bearers/committee heads for the upcoming UAE Chapter elections as well as to discuss the future direction of the Chapter. The meeting saw high importance being placed on conducting events for brand-building of IBA and its alumni in the UAE. Some key activities highlighted in the meeting were:

Brand IBA & Pakistan in UAE

IBA Campus in UAE/Exec Courses

Increased Frequency of Meetings

Building Team Effort

Professional/Social Events

Joint Event of Pakistan Based Universities

Building Pakistan's Image

Professional/Social Networking Events

Future Road Map

Sports Committee

Family/Social events

Concentrate on Business communication in UAE

Focus on Abu Dhabi Based Alumni

Team Identification

Previously, elections were due to be held on August 17 but had to be delayed due to lack of sufficient nominations. However, Alumni showed a renewed sense of enthusiasm and nominations for the post of President, Vice President, General Secretary and Treasurer were received during the meeting for the upcoming Chapter elections.