Alumni and Students go head-to-head in a Football match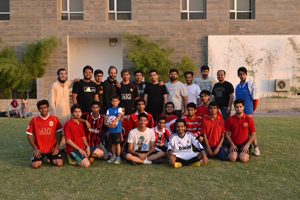 12th April 2014 saw the Class of 2015 go head to head with the alumni, Class of 2003. It was a friendly match organized by "The Alumni Society" to encourage the sports enthusiasts to make use of the facilities provided by the I.B.A. The two teams enjoyed a fair game displaying a lot of affection and sportsman spirit. Playing on the new football ground, the class of 2003 remembered their time spent at I.B.A and praised the administration for providing this platform to the current generation of IBA students.
With the Class of 2015 daunting in red jerseys and the Alumni in black, the game went under way and a late goal in the first half saw the former take a 1-0 lead thanks to their captain, Mr. Aurangzaib, netting the ball. Nevertheless, the alumni did not back down and came back stronger in the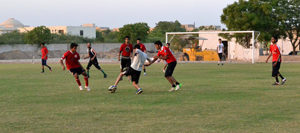 second half and with Mr. Asadullah leading his team from the midfield and creating chances for the strikers, the alumni almost equalized. It was fierce battle in the midfield, however, another goal from the boys in red put the game past the alumni who had smiles on their faces even after a 2-0 defeat; they were satisfied with their performance.

With the alumni revisiting their youth and enjoying a nice game of football, the teams cheered for each other and the players walked away from the field having a good laugh.