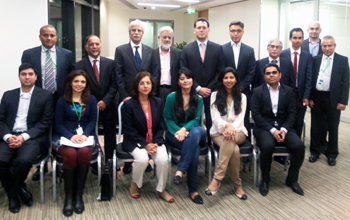 The IBA Alumni UK Chapter had a meeting on the 23rd of October in London to update the members of recent events at IBA, as well as to raise funds for the IBA National Talent Hunt Program. The meeting was attended by 19 members with an interesting mix of some recent graduates (class of 2010) and some not so recent (class of 1968).
The meeting was started by Kishwer Aziz (1974) with a Welcome Address, and then Anjum Iqbal (1974) went through a presentation provided by IBA to make us aware of recent changes taking place. Kishwer then presented the National Talent Hunt Program and the funding IBA needs for each student to be offered this program. Many discussions followed these presentations on how best to make regular donations to IBA to fund such programs. The alumni also wanted fresh ideas of how to keep the UK Chapter active in holding future events and energizing more alumni members to attend meetings. A summary of the items discussed are as follows:
1. A need was felt to open a bank account in UK for the collection of donations to IBA. For the time being, Ehsan Raza (1973) has volunteered to collect donation through his self-run charity 'Supporting Hands'.
2. Senior members of the Alumni committee wanted the younger recent graduates to take over the responsibility of moving the IBA UK Chapter forward. Fariya Faiz (2010), Hira Batool Kidhwai (2008), Asim (2009) and Mohammad Farooq (2002) volunteered to energize their alumni friends in the UK to become active members and also to take ownership of the database to keep it updated.
3. Furthermore, these young alums will also take up the responsibility of keeping the facebook page active as well as set up a UK Chapter Linked in group. They will also maintain the UK Chapter link on the IBA website.
4. It was felt the IBA UK Chapter should at least have one event per year. Ideas were discussed on how to make the events more attractive for all alumni to attend; these included inviting prominent personalities, as well as social events on weekends with spouses. The recent graduates will form a core team who will meet at least once a month to discuss such ideas and put these ideas forward to the senior members who will offer their advice and support to help materialize these ideas.
5. IBA will be approached to help source prominent Pakistani personalities visiting London to attend our events. Any other alumni member who becomes aware of a visit by a prominent personality should also help organize a meeting around their visit.
6. The group of 20 people collected about GBP1650 in cash, cheques and commitments, which we will confirm when all cheques promised are received.
The meeting concluded with a fantastic feast of finger food arranged through Anjum Iqbal at the Deloitte Office.