UAE Alumni Chapter Elections and Annual Dinner 2015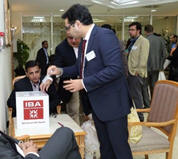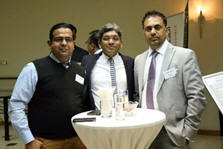 December 11, 2015: The day saw 80 alumni residing in the UAE come together for an evening for the local Alumni Committee Elections (term 2016-2018), followed by the Annual Dinner 2015. It was an evening of gracious speeches, laughs, cheers, scrumptious food, reunions coupled with some fair and thorough competition as the opposing candidates contested for office. The elaborate event took place at Hotel Crowne Plaza in Dubai on Friday, 11 December 2015, from 7.30 onwards in the evening.

The event started with registering voters on the spot, eventually leading to vote-casting and official kick-off for the evening. The contest took place for the post of the President while the Vice President, General Secretary and Treasurer positions went un-opposed. The candidates, Mr. Mashkoor Murshed and Mr. Danish Kazi, courteously delivered their speeches and received praise and applause from the audience.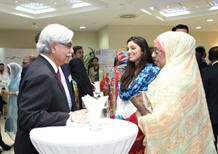 Voting was followed by a lavish dinner, culminating in a musical soiree. It was an evening of charged emotions (courtesy, elections) and the musical celebration provided a calm, soothing end to the evening. Mr. Shahid Shafiq and Ms. Yasmin Zafar (Pakistan Association of Dubai Officials and UAE Chapter Board Members) graced the evening with their presence as guests.
IBA Alumni-UAE Chapter Office Bearers for 2016-2018

President

Mr. Mashkoor Murshed, Alumnus 1994

Vice President

Uzzam Malik, Alumnus 2003

General Secretary

Ahmad Rafi, Alumnus 2007

Treasurer

Uzma Zohair, Alumnus 2009