Launch of the Book "Chronicling Excellence: A History of IBA"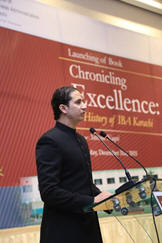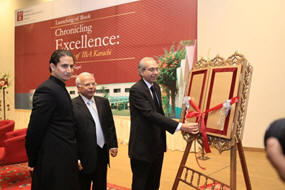 With the close of 2015, the year-long celebrations of IBA's 60th anniversary came to an end on December 31. The celebrations terminated on a high note with the launch of the IBA History Book "Chronicling Excellence: A History of IBA Karachi." The book, authored by IBA Alumnus Mr. Sibtain Naqvi, documents IBA's development and transformation over the years. The launch of the book created great hype and excitement, and a number of students, faculty and alumni attended the event.

Dean & Director of IBA Dr. Ishrat Husain spoke on the occasion, saying that the final celebratory event of the 60 years celebrations marked IBA's recording of its printed history through the collection of scattered documents. IBA has a rich history spanning various locations and founders, which made the collection of its official records a challenge that the author rose up to, to compile this trove of knowledge. Over a 100 alumni were interviewed to maintain accuracy and a feel for the institution over its 60 years.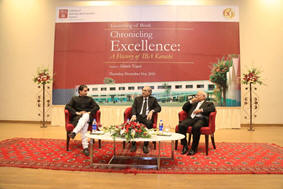 Renowned guests at the event, Mr. Justice Munib Akhtar (Sindh High Court), former senator Mr. Javed Jabbar and Ms. Ayesha Menai (Head of Human Resources at the First Women Bank, and former Head of Human Resource at IBA) also spoke on the occasion. Chief Guest Mr. Justice Munib Akhtar, who is also on the Board of Governors of IBA, said the true assets of IBA are its people (the IBA community), and it is their contributions that have helped IBA become a national icon. He mentioned that the advent of LUMS has offered a competitor to keep IBA from becoming complacent. Mr. Javed Jabbar offered a detailed analysis of the book, citing i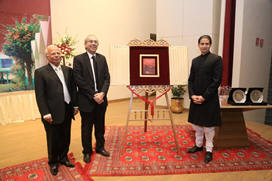 ts unique style as a thematic record of history rather than a chronological order. He recognized the importance of US institutions, including University of Pennsylvania and Wharton, in helping IBA reach such impressive heights. Ms. Ayesha Menai was reminiscent of her journey as a student at IBA, recalling anecdotes and important lessons.

IBA professor Dr Noman ul Haq urged the necessity of the study of art and literature, especially at an institute of IBA's stature: "intellectual nourishment is required even for business students to understand the human element, just as Mark Zuckerburg, Bill Gates and Mohummad Yunus used their understanding of the human psychology to develop their businesses."

The book was officially launched by the Chief Guest Mr. Justice Munib Akhtar, who stressed how honored he was to be at IBA. Awards and Mementos were presented to the Chief Guest, author (Mr. Sibtain Naqvi), speakers, and collaborators.