Islamic Banking Session by Mr. Ahmed Ali Siddiqui

By: Mohammed Shehmir
BBA6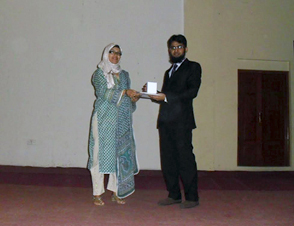 Mr. Ahmed Ali Siddiqui, Executive Vice President at Meezan Bank's Product development and Shariah compliance department and an IBA Alumnus of 2001 was invited to IBA City campus (APWA auditorium) to speak on the thriving Islamic Banking Industry on 18th April 2014. The session was attended by students of "Analysis of Pakistani Industries" course taught by Dr. Khadija Bari and Ms. Tahira Mariam Jaffery.

This highly informative session kicked off with Mr. Ahmed highlighting the importance of Islamic finance in an economy and how this system is capable of resisting major financial crises which are primarily caused by the conventional modes of banking. He elucidated on how the Islamic Banking system is different from the conventional banking system and briefed on how this system is also being promoted in other parts of the world due to its capacity to resist the bubbles in economy created by artificial credit creation.

Mr. Ahmed then took the students through a timeline regarding the evolution of Islamic Banking in the world and emphasized on the efforts of Meezan Bank in the promotion of this Industry in Pakistan. He told the students about the rapid growth of this Industry in Pakistan and how many large banks in Pakistan are now converting towards this mode of Banking. Mr. Ahmed, while explaining the potential of the Pakistani Islamic Banks, also told the students about the International bodies working for the promotion of this Industry and how they have contributed in ensuring that the system remains 100% Shariah compliant.

At the end of the speech there was a Q&A session in which students asked different questions to the speaker regarding the products of Islamic banks, their SOPs, Investment areas and etc. All of the questions were answered in great detail by the speaker and many misconceptions regarding Islamic Finance were cleared by him.

Mr. Ahmed, with his rich array of knowledge and expertise in Islamic Finance, left the students with a lasting impression and various key points to consider when they adopt their future roles as decision makers in the economy of Pakistan. We are thankful to Mr. Ahmed Ali Siddiqui for taking out time for our students out of his precious time and delivering such a marvellous session.