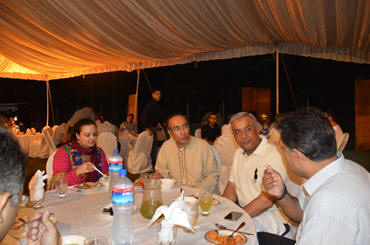 This year, the traditional IBA Alumni Islamabad Chapter Reunion Iftaar cum Dinner was held in the beautiful lawn of Café 1969 near Lok Virsa Islamabad on Thursday, July 24, 2014. The weather could not have been more congenial for an outdoor gathering with cool breeze and cloudy weather making the event a memorable one.

Accompanied by their families, Alumni gathered to reminisce their good times at IBA with their once classmates. During the first half hour, Alumni were briefed about the transition of IBA physical infrastructure as well as revamped curriculums. After Iftaar, Alumni shared their stories of old times spent in IBA which was emotional and memorable for everyone.

Mr. Raza Chinoy, President, Islamabad Alumni Chapter and Mr. Abdullah Ikram Qazi, Treasurer Islamabad Alumni Chapter, introduced alumni of different batches to each other. Mr. Asad Umer, Member National Assembly and a proud IBA Alumnus also shared his thoughts about IBA meritocracy and its legacy. Mr. Umer emphasized on quality of education saying Pakistan needs institutions like IBA to prosper.

While the attendees committed to strengthening the Islamabad chapter by conducting more reunions and providing opportunities to IBA students within prestigious organizations, pledges were signed by Alumni to support IBA students by providing scholarships. The evening culminated with a sumptuous dinner accompanied by a networking session which continued late in the night.