End of an Era - IBA Alumni Pay Tribute to Dr. Ishrat Husain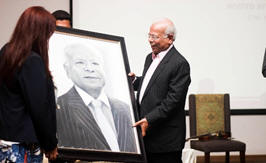 KARACHI, March 27, 2016: More than 200 IBA Alumni got together to pay a hearty tribute to Dr. Ishrat Husain at the JS Auditorium, IBA City Campus on Sunday March 27, 2016. The event was organized by IBA's alumni and team of student volunteers who arranged it to honor Dr. Ishrat Husain's tireless contributions to IBA in the fields of academics and infrastructure among many others, as well as to give him a befitting farewell as he retires from services.

Alumnus Sibtain Naqvi started proceedings with a welcome note and felicitation to Dr. Husain for being conferred the Nishan-e-Imtiaz on 23rd March. He was followed by Acting Dean and Director Dr. Sayeed Ghani and Alumni Board Representative Shahid Shafiq while Alia Hasan thanked the team and volunteers. Dr Sayeed Ghani was among those who stressed upon Dr. Husain's contributions to IBA and said that IBA went through a transformation that very few institutions go through, especially in the educational aspect.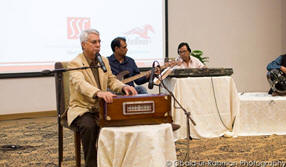 As a token of appreciation, an oil painting of Dr. Ishrat Husain was presented to him on behalf of the IBA alumni. Dr. Husain also took the stage and addressed those present. He stressed on the importance of teamwork in bringing IBA to the place that it is at today, and said that a single person working tirelessly cannot accomplish many goals on his own if those working alongside refuse to cooperate.

Speaking about the issues facing our country at large he, "If we all, in our little domains, work as a team and not in different directions we would be doing a service. Donít expect a messiah to come and fix the problems of this country," he warned.

Addressing the alumni, he emphasized on taking ownership and interest in IBA even after they have graduated. "You are the owners. You have to take interest. Whatever you are today is because of this institution. You have to give it back," he told the alumni present at the event.

A video created by an IBA student was also screened, in which the transformation of IBA through the years was shown. The programme was followed by a musical night where alumnus Salman Alvi performed. A moment of silence was also observed for the victims of the Lahore blast.