Class of MBA '90 Celebrate Silver Jubilee at IBA

IBA Main Campus was echoing with guffaws and claps on Saturday, December 26, 2015, as class of MBA 1990 started to assemble in the courtyard of the newly renovated Fauji Foundation Academic Building to undertake a campus tour and celebrate their 25 years of camaraderie.

The protagonist of this reunion-cum-campus tour was Mr. Muhammad Ali Ghulam Muhammad, former Chairman SECP, who made umpteen calls, exchanged numerous emails and WhatsApp messages and managed to gather more than 20 of his classmates now spread all across the globe and currently visiting Pakistan. Those who could not make it for the visit were connected via live video streaming putting the total to an impressive 40 Alumni.

The class was greeted by the Registrar, Capt. (Retd.) Ahmed Zaheer and Acting Head of CDC and Alumni Affairs, Mr. Haris Tohid Siddiqui. The Registrar provided a short briefing on the current physical infrastructural transformation at IBA.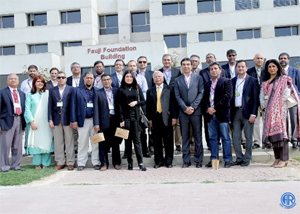 The group then called on the Dean & Director, Dr. Ishrat Husain who briefed the group about the academic and infrastructure changes at IBA. He informed the group that IBA is now vying for a place in Association to Advance Collegiate Schools of Business (AASCB), the premier accrediting body of business schools, to make it the first institution in Pakistan to achieve this feat. However, he pointed out that there are three impediments towards internationalization of IBA including presence of international faculty, students and research output and measures are being taken to ease the process.

Dr. Husain applauded the overall efforts of the Alumni towards Scholarship fund and exhorted the group to finance one unit of the Students' Centre worth Rs. 5 million. The Class of '90 was thrilled to know of the advancement and pledged to contribute towards the welfare of IBA. The group floated the idea of class coordinators for ease of communication and requested that Alumni Reunions should be held in December when people from abroad are visiting home.

Later, the Alumni were taken for a campus tour amidst roars of laughter, pangs of nostalgia and loads of photos and selfies. The Class of '90 also planted 5 trees as a tangible reminder of their stay at IBA. The reunion-cum-tour culminated with refreshments in the Students' Centre with renewed pledges of continued relationship with the alma mater, and cherished memories.