Chevening Scholarship Award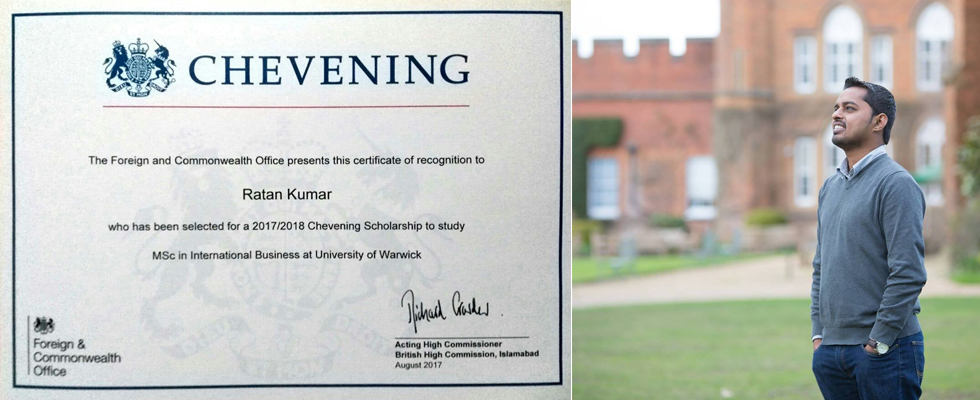 It gives me great pleasure to inform you that Mr. Ratan Kumar, Alumnus of BBA Class of 2015, has been awarded the Prestigious Chevening Scholarship to represent IBA Karachi for the 2017-2018 Chevening cohort.

The Chevening scholarship is sponsored by the foreign and commonwealth office in the UK and selects candidates from around 141 countries worldwide for a one year masters study in any university in UK. The process is highly competitive and candidates who have proven leadership potential and networking skills are selected to complete their education and are expected to return back to their respective countries to become future great leaders in their respective fields.

This year the process was even more competitive due to Brexit and out of around 50,000 applicants worldwide almost 5,000 were invited to the interview stage and finally a total number of 1,765 leaders were awarded the scholarship. Pakistan was privileged to have one of the biggest cohorts worldwide with 63 candidates representing both government and private sector.

Mr. Ratan Kumar will be taking MSc in International business course at Warwick Business School, University of Warwick which is currently ranked at 26th place worldwide and at 5th place in UK for business studies as per QS world university rankings 2017. The contribution of the teachers and mentors at the IBA Karachi who groomed and trained Mr. Kumar during the four years spent at this great institute and helped him to reach this wonderful stage in life. The scholarship places immense importance on professional and leadership experience and he was fortunate enough to work part time in the Alumni department at IBA Karachi for two and a half years under the supervision of Mr. Haris Tohid Siddiqui who besides being a great boss, trained Mr. Kumar in every aspect of challenges faced at professional level of work.

To share a few background details about Mr. Ratan's personal and professional life: He belongs to Dadu, completed school and college education from Shikarpur City, interior Sindh. After spending almost 18 years in interior Sindh, he came to Karachi for pursuing higher education and applied to IBA Karachi. He was fortunate to have been awarded the US need and merit based scholarship which covered all my educational and living expenses for the entire BBA degree.

After graduation, he joined Standard Chartered Bank in the Fast Track Graduate Program and worked there for 14 months in the risk and controls team before moving to Cybernet Pakistan in the Corporate Sales Team where he will be ending his employment this month to pursue the Chevening Scholarship. Another accomplishment which helped him secure this scholarship was being selected to attend the International Leadership Program (ILP) 2017 which was fully sponsored by the Prince's Trust International in UK. During this fourteen days intensive program, they attended leadership trainings and seminars and had the Privilege of meeting HRH Prince Charles the Prince of Wales at the ILP reception event held at Windsor castle in UK.

"The Chevening scholarship is a wonderful opportunity that will potentially change the course of my professional career and personal life. This has resulted after years of hard work and consistent effort and me along with my family are delighted at the prospects this opportunity could bring for our future generations."

The application cycle for next year's Chevening scholarship has already started and he would be more than happy to conduct an information session for our alumni and current students who need guidance and help on applying and being successful at this scholarship.

Contact Details:
ratankumar.iba@gmail.com
+923008268596