Apply Now for Lifetime IBA Alumni Card!

Dear Alumni

The wait is finally over. Thank you for your patience throughout this time. We are pleased to announce the official launch of the Lifetime Alumni Card. Based on our prior experience, we have streamlined our card processing and delivery system ensuring a smooth and quick functioning. We will be processing the cards in batches of 100 to maintain a steady flow and the processing time might take up to 3 weeks (max.) depending upon the frequency of requests.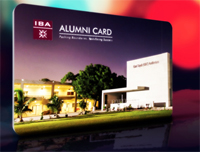 The procedure to apply for the card is very simple. In your online alumni profile, the alumni card request has been reset and you are simply required to log in to your profile and select the option "Yes". However, before doing so, we recommend that you visit our FAQ section to acquaint yourself of the appropriate process and to avoid any delay in the processing of your request.

How Your Card Processing Could Get Delayed:
1. Photo on the profile is not up to the requirement. (Please see the instructions on our FAQ page)
2. Correspondence Address is incorrect / incomplete.
3. Information on the online profile is incorrect / incomplete.


For those in possession of the expired Alumni Cards, you can still access the services and benefits from our Card partners for a period of 6 months, after which only lifetime cards will be valid.

We sincerely hope that through this venture, you will stay connected to IBA.

Regards
IBA Alumni Department
Email: alumni@iba.edu.pk
UAN: 111-422-422 (Ext 1204)