By Muhammad Ali, VP & Treasurer, IACC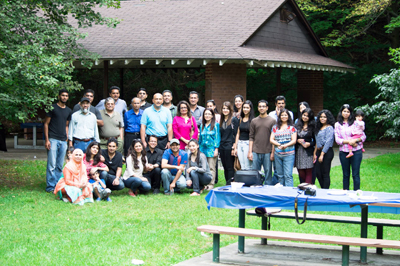 The 3rd Annual IBA Alumni Canada Chapter (IACC) picnic was held at Sherwood Park in Toronto on Saturday, August 31, 2013. This time, a small and beautiful park was chosen which smelled, looked and reminded us of Murree Hills in our country. The menu comprised of mouth-watering chapli kebabs, chicken burgers, chicken tikka botis, seekh kebabs, hot dogs (generously sponsored by Al-Safa), chicken biryani, samosas and jalebis (generously sponsored by Kumail Tayebbi), fresh watermelon and grapes.
It was a smaller group of about 60 people, and the setting was perfect for an interactive, self-help and fun picnic. Everyone had plenty of quality time to chat with each other, make friends and share their experiences. The best part of the picnic was to have a veteran respected teacher, S. Barkat Ali, at the picnic, who brought delicious chocolate cake for the IBA grads and their families, and whose values were further conveyed among the picnic goers.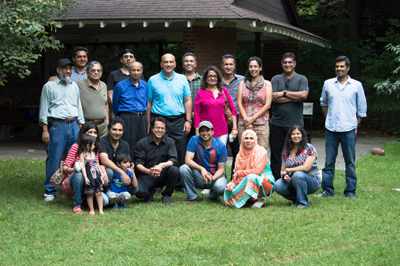 We also got an opportunity to communicate the main objectives of IACC of supporting IBA, its students and its workers not only in Pakistan but also in Canada, through resource mobilization and by building a strong/special network and, most of all, to enjoy and have a lot of fun together at the same time.

We would like to extend thanks to our sponsors (Engro Foods Canada Limited and its CFO Munim Shaikh) and Kumail Tyebbi for their generous support. My special thanks go out to Huma Khan and Zeeshan Muqaddam for their whole hearted logistical and moral support for planning and executing this event.
We extend our gratitude to those who helped us in setting up tables, barbequing, cutting vegetables, serving the meals and clearing up the area. This event would not have been a success had it not been to the participation of Alumni and their families.

We look forward to organizing such events in future with a much larger attendance, a lot more fun and a stronger team of event planners/managers.